October is special month, when brands rally together to help raise awareness and funds to help fight against breast cancer.  This year for BCA month, I received a record number of emails by brands participating, so as I weed through (and I'll try to update this as more come through), here's a list of how some companies are showing their support:
**assume all of these product promotions are for the month of October unless otherwise stated**
Dior fans can go to www.diorauction.com to bid on items in three categories: Luxe Trips, Elite Experiences and Lavish Products as well as a "Shop Now" section, where customers can purchase items like a Christian Dior book or an engraved Dior Blue Tie palette, all available exclusively through Dior and select partners. 100% of the proceeds benefit Look Good…Feel Better, an organization dedicated to helping women deal wit the appearance related effects of cancer.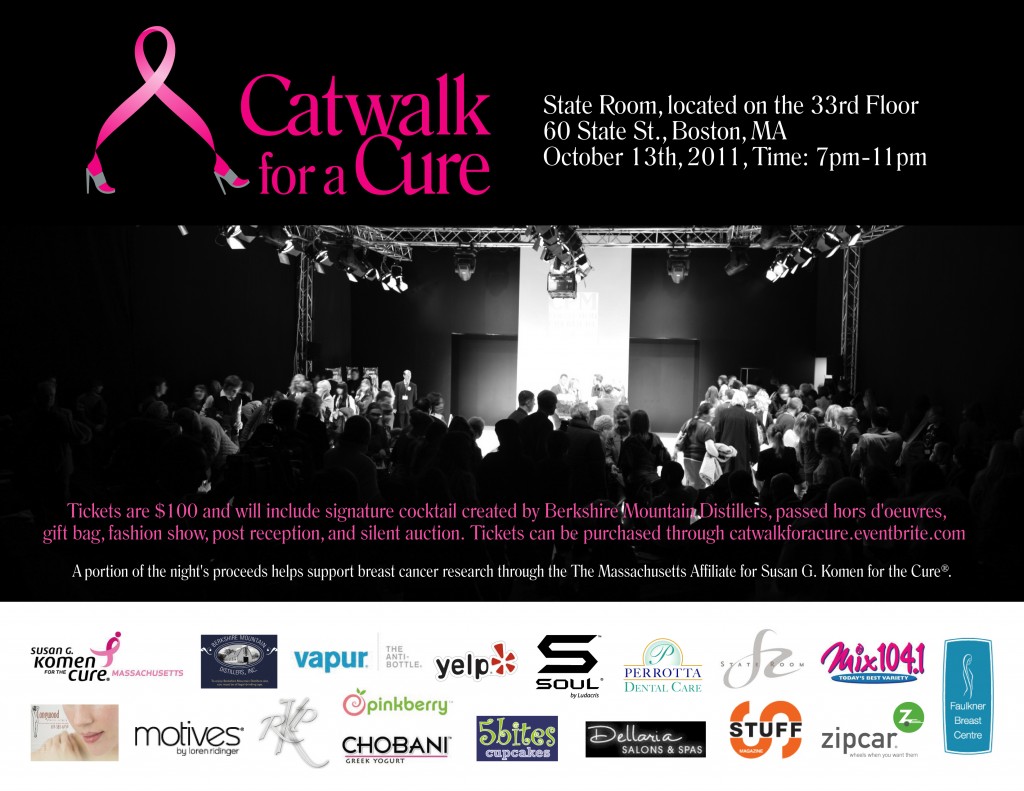 Catwalk for a Cure – Tickets ($100) to this annual breast cancer charity event in benefit of The MA Affiliate for Susan G. Komen for the Cure foundation hosted in Boston on October 13th includes a cocktail hour, hors d'oeurves, silent auction, fashion show, reception and gift bag. When: Oct.13th from 7-11pm at 60 State Street, Boston, MA. Click HERE for tickets.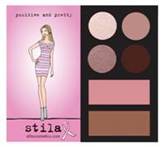 Stila – Get empowered in pink with Stila's limited-edition Positive and Pretty Palette featuring four award-winning Eye Shadows, a Cheek Color and a Highlighter. A mirror is included for on-the-go application and a detailed face chart offers how-to tips and tricks. 10% of the proceeds will go to a variety of BCA charities including the Breast Cancer Research Foundation. Price: $14 (a $62 value).
OLEHENRIKSEN is offering a special 1.7 oz. size of their best selling Truth Serum in BCA packaging ($65), with a portion of the proceeds going to the National Breast Cancer Foundation available at  www.olehenriksen.com and Sephora.
Clarisonic is donating a portion of the proceeds of its "Pink" products to Look Good…Feel Better throughout the year as well as $15 for each specially designed, limited edition Almond Blossom Plus Skin Cleansing System ($235) sold during October to LGFB available at Clarisonic.com, Nordstrom or the Ritz Carlton spas.  Additionally for the month of October, Clarisonic will donate $1 to Look Good…Feel Better for every Facebook "Like" they receive (Facebook.com/clarisonic). They have also partnered with The Ritz-Carlton who is working with them and Skin Authority skin care company to offer an exclusive Look Good…Feel Better facial in select Ritz-Carlton spas. With every LGFB facial performed, $15 will be donated to Look Good…Feel Better ($5 each from Ritz Carlton Spas, Clarisonic and Skin Authority).  The facial will be available through November 5, and costs $180 for 50 minutes.
Bumble and Bumble is donating $5 from every purchase of Spray de Mode on bumbleandbumble.com to The Breast Cancer Research Foundation.
Skyn ICELAND – For the 7th consecutive year, skyn ICELAND is releasing a limited edition Pink Detox Kit ($45), donating $5 from the sale to Cancer Support Community.
AHAVA – For every purchase of their Hope Blossoms Mineral Bath Salts ($22), AHAVA will make up to a 15% donation to the National Breast Cancer Foundation in support of their mission to help fund research and promote education and early detection. These mineral-rich salts contain 21 essential Dead Sea minerals, including Magnesium, Potassium and Calcium that work to melt away stress, while providing essential moisture to skin and relief to tired muscles.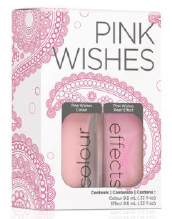 CND launches Pink Wishes Colour & Effect duo nail polish set ($20) to help raise awareness against breast cancer and commemorate women everywhere fighting against it. Plus what better way to match that pink ribbon then with some extra pride on your fingers and toes? Available for a limited time, visit CND.com for locations.
TIGI's BCA Collection – With each purchase of TIGI's pink ribbon products, TIGI will donate a portion of the proceeds to City of Hope, a leading research, treatment and education center for cancer and other life-threatening diseases.
Darphin is donating $15 for every specially packaged Redness Relief Soothing Serum in pink ($85) sold to the Breast Cancer Research Foundation.  This high potency soothing serum is dedicated to improving sensitive skin prone to irritations and works to diminish the appearance of redness. Available at www.darphin.com.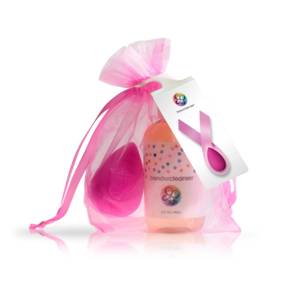 Beautyblender, the ultimate make up sponge applicator will donate 10% of all product sales to the National Breast Cancer Foundation.
TOCCA will be donating 15% of net proceeds form the sale of their TOCCALaundry Delicate line which includes their Laundry Delicate (8 oz/$15) and Laundry Travel Set (four 2 oz. bottles/$22) to Living Beyond Breast Cancer.

Yves Rocher will donate $2 to Look Good…Feel Better for each special edition of Arnica Essential moisturizing hand cream ($4.95) purchase made through their website and catalogs.
P&G Beauty and Grooming has collectively between salon professional brands Sebastian, Nioxin and Wella, donated $50,000 to the Look Good…Feel Better program as part of their October Fighting Fearlessly Against Breast Cancer initiative.
Fergie Footwear AWARENESS Shoe ($79.99) – Created by Fergie herself to support Breast Cancer Awareness, the 4 inch hot pink sparkly pump will be available starting October 1 at www.fergieshoes.com.  Fergie Shoes and Brown Shoe Company will be donating $20,000 to Susan G. Komen for the Cure® in connection with this program.
Revlon – Revlon  will donate all proceeds from the sale of Revlon ColorBurst Lipstick in Fashion's Night Pout ($8.99) to Look Good…Feel Better.  This limited-edition shade (dubbed "the perfect nude" by admirers), was created exclusively for Revlon by Gucci Westman.
Rite Aid is partnering with Revlon for their "Beauty of Giving" campaign. Fans of Rite Aid's Facebook page can honor someone affected by cancer by sharing their story and entering for a chance to name a new pink shade of Revlon nail polish in their honor. The "Your Story, Your Shade" contest will culminate with the two most compelling stories featured determined by voting in December to name the new shade. First-place winner will receive an all-expenses-paid trip to New York City to attend the Revlon Run/Walk in May. Also part of the "Beauty of Giving" campaign, Revlon is donating $1 from each Rite Aid sale of all specially marked high velocity shades of pink nail and lip products.
Sexy Hair has created limited-edition pink cans of four products including Sexy Hair's Spray & Play, Spray & Play Harder, Root Pump and Root Pump Plus. A portion of the proceeds from each will go to Look Good…Feel Better during the month of October.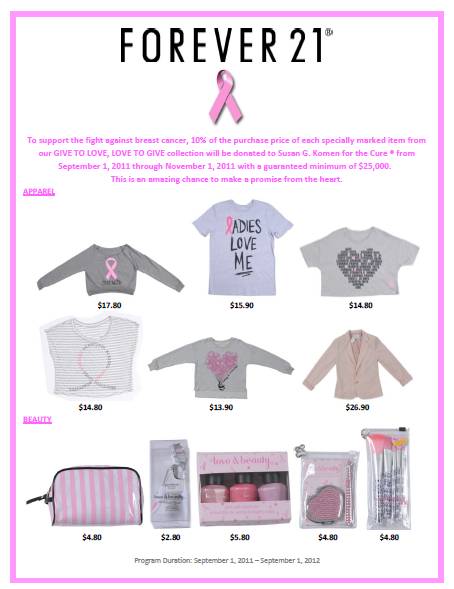 FOREVER 21 – 10% off the purchase price of each specially marked item from their GIVE TO LOVE, LOVE TO GIVE collection will be donated to the Susan G. Koman for the Cure fund through November 1st.
Mixed Chicks has packaged their Leave-in Conditioner ($16.99) in a pink cap and is donating $1 from every purchase of a 10 oz. bottle for research to cure breast cancer.
21 Drops will be donating 30% of the proceeds from the online sales of their #03 Strength Blend to the educational non-profit, which is dedicated to providing a community of support to facilitate the healing process for women experiencing breast cancer.
Soap & Glory is donating $1 from every tub of their best-selling body butter to Breast Cancer Research.
Rebecca Taylor has designed a special nude eyelash trim ruffle blouse ($235) to raise awareness and funds for the Triple Negative Breast Cancer Foundation (TNBC) – a foundation dedicated to raising awareness and funding research specifically aimed at this aggressive subtype of breast cancer.  50% of the proceeds from Rebecca Taylor's pink silk blouse will go directly to TNBC.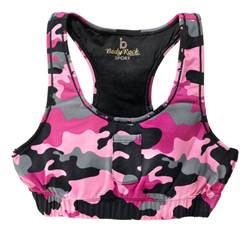 BodyRock Sport released the first post-mastectomy bra in honor of BCA as part of their Empower 'Em Collection available on www.bodyrocksport.com. And in honor of BCA month, all products with pink in them are 25% off with 10% of the profits going to the Susan G. Komen for the cure foundation.
Old Navy has partnered with the Susan G. Komen Foundation to create five limited edition tops all under $40 with 5% of the sales to support Breast Cancer Awareness month. Customers can additionally make an in-store cash donation, which Old Navy will match.
Tiny Prints, the leading online destination for personal stationery, greeting cards and more, has partnered with actress and breast cancer survivor, Christina Applegate and her charity, Right Action for Women (RAW) and created a limited-edition collection of greeting cards and thank you notes, designed by Applegate, with a portion of proceeds benefiting RAW.  Applegate's collection features designs that are easily customizable with personal photos and messages on the Tiny Prints site.
EdibleGiftsPlus.com – Home of delicious and affordable treats that can be delivered anywhere in the U.S., EdibleGiftsPlus.com has pledged to donate 15% of proceeds from their collection of fun and tasty goodies inspired by Breast Cancer Awareness.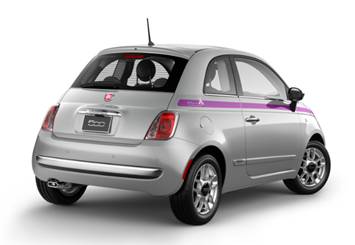 FIAT (the car featured in J Lo's music video) launches the first ever Fiat 500 "Pink Ribbon" Limited-Edition model. Produced in partnership with The Breast Cancer Research Foundation, 250 limited edition vehicles will be available at FIAT Studios across the country – FIAT will donate $1,000 from every car sold to the Breast Cancer Research Foundation, with a minimum donation of $50,000.
ViXswimwear.com is donation 15% of the sales from the IKAT PINK BIKINIS to the Susan G. Komen Foundation.
Echo Design is joining forces with Breast Cancer Research to help strive for a cure.  Debuting their "Pink Boutique" showcasing rosy-hued scarves, gloves, hats and other accessories, Echo will donate 15% of sales of these items to the Breast Cancer Research Foundation.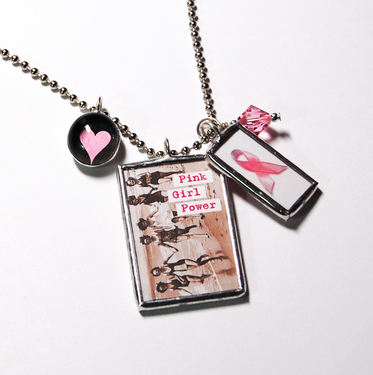 LIVE, LAUGH, LOVE (livelaughlovegifts.com), which offers inspired gifts that make every day special, vows to donate 15% of proceeds of their Pink Girl Power with the Rustic River Necklace ($52.99) to BreastCancer.org.
Souchi Tricia has designed a collection of head scarves (priced at $78-$98) in support Breast Cancer Awareness. The Souchi Tricia Head Scarves will be offered in a bamboo fabrication for Spring/Summer and 100% loro piana cashmere for Fall/Winter. Souchi will donate 30% of proceeds year-round to Susan G. Komen Foundation of Aspen Valley.
Cureology (cureologybeauty.com) is proud to donate 20% of all distribution sales to the National Breast Cancer Foundation to provide funding for FREE mammograms, education and cancer research. Their full line of products add volume, rejuvenate the scalp, preserve color-treated hair and moisturize for beautiful hair.
emerginC is donating 20% of proceeds of their Red Carpet Primer ($44) to the Susan G Komen for the Cure foundation. Available at leading spas nationwide and on www.emerginc.com.
Kimara Ahnert is supporting BCA through two very special initiatives; first the "Lashes for Life" program Kimara Ahnert Cosmetics has created in conjunction with the Libby Ross Foundation and through the sale of her BCA products, Pucker Pink Ribbon Lipstick and Blush in Pink Petal of which she's donating 15% of the sales to the Libby Ross Foundation.
Mama Mio has partnered with Butter Lane cupcakes to create a limited edition B-Cup(cake) to be sold on ButterLane.com and for every one sold Mama Mio will donate $1. Additionally, Mama Mio will donate $1 from every sale of their Boob Tube Bust & Neck Firmer (packaged with a breast self-exam instructional pamphlet) purchased on mamami.com in October ($45).
Skin 2 Skin (skin2skincare.com)will donate 5% of the proceeds from the sales of Aging Intervention Cream and 24/7 Rejuvenation (All-In-One Cream) to The Breast Cancer Research Foundation.
Everyday Minerals, an eco-friedly, all-natural makeup line will be donating 100% of all proceeds for the month of October of Pink Ribbon Blush ($10) to the Susan G. Komen Foundation.
SoleMates is launching a new 'Project Pink' promotion in partnership with the Breast Cancer Research Foundation, to donate 12.5% of sales from their special 3-pair gift set ($29.85) to BCRF. The set includes one pair of Narrow, Classic & Wide SoleMates in either Clear or Black.
Disclaimer: I have formal relationships with agencies PR agencies/teams that rep these brands and have sent me this information for consideration of a post. Pretty Connected/Lara Eurdolian was under no obligation to write this article. This post is purely informational based on brand's BCA initiatives and not the quality of the products as I have not had a chance to try most of them yet.