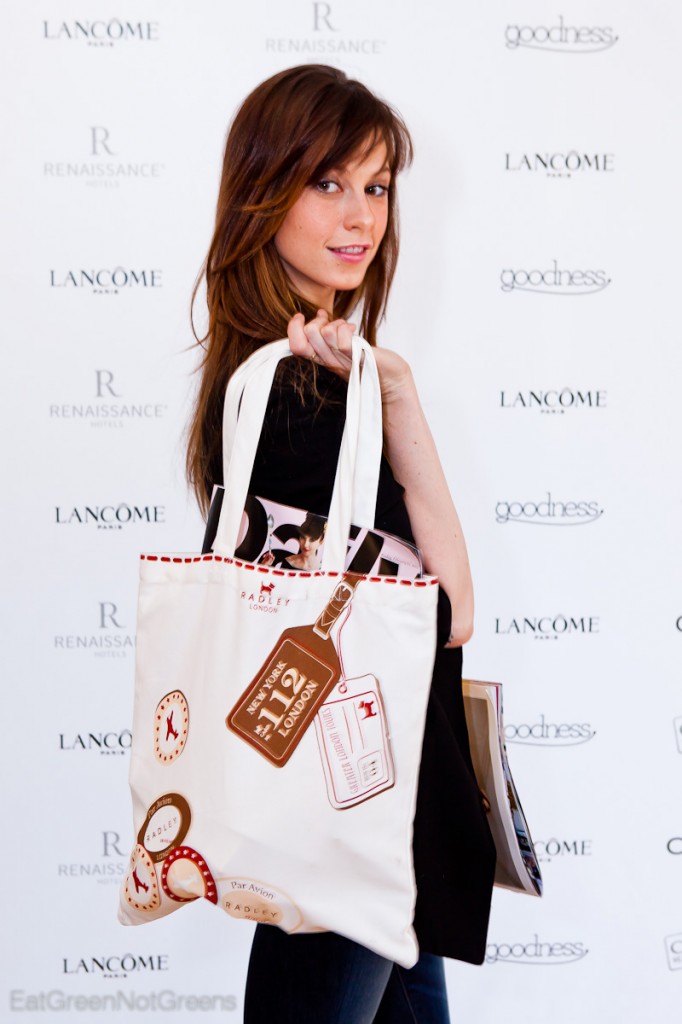 Recently, I posted about the exciting GOODNESS pop-up restaurant I was apart of during New York Fashion Week.  Founded by Supermodel/environmentalist, Elettra Wiedemann and presented by The Daily Front Row and CIRCA, GOODNESS is a full service pop-up restaurant that provides fresh, healthy and delicious food to the fashion community, while showcasing regionally sourced seasonal cuisine created by local culinary talent. This season the chef line-up included Mario Batali, Alain Allegretti, Leo Forneas and Julian Medina and GOODNESS earned the CFDA's Health Initiative Stamp of Approval.
In addition to launching the pop-up restuarant, GOODNESS also hosted the GOODNESS Lounge by Renaissance Hotels, offering guests a comfortable "living room" atmosphere for reporters, models and editors to relax and recharge. And for guests in attendance there was a an amazing gift bag which we're giving away to some lucky readers!
Now for the fun part… WIN THE GOODNESS GIFT BAG ($225+ value)! 
Here's what's in the bag:
HOW TO ENTER:
We're giving away three GOODNESS gift bags, one on this blog and two others on twitter! There are two ways to enter:
1. Leave a comment under this post and tell me what word(s) comes to mind when you think of "Goodness". Any (non-spam, happy) comment automatically enters you into the drawing.
2. To enter on twitter, follow @GOODNESSpopup and @DailyFrontRow and tell us what word(s) comes to mind when you think of "Goodness" using the hashtag #WinGoodness. Or tweet the following message to be automatically entered, "Fill in the blank: @GOODNESSpopup @DailyFrontRow when I think of Goodness I think of ____  http://ow.ly/9mwh2 #WinGoodness".
Two lucky winners that entered on twitter will be chosen at random when @GOODNESSpopup reaches 800 followers.
GOOD LUCK!
Official Rules:
The promotion begins on February 29th, and ends March 14th at 11:59pm EST for the blog winner, and  for the twitter winner it ends when @Goodnesspopup reaches 800 followers.
Enter by leaving a comment on this post, and/or by following @Goodnesspopup and @DailyFrontRow tweeting at @Goodnesspopup and @DailyFrontRow using the hashtag #WinGoodness. Enter as many times as you'd like!
Three winner will be chosen at random, one on the blog and two on twitter.
The blog winners will be selected by March 15th and contacted for their mailing information. If no response is given by March 18th, an alternate winner will be chosen.
No purchase necessary.
Open to residents of the U.S. only.
All federal, state and local laws apply.
Cash Sweepstakes WinPrizesOnline: Sweepstakes