Mark your calendars and start making your reservations! From February 11th – 14th, Elettra Wiedemann's GOODNESS pop-up restaurant returns to New York Fashion Week.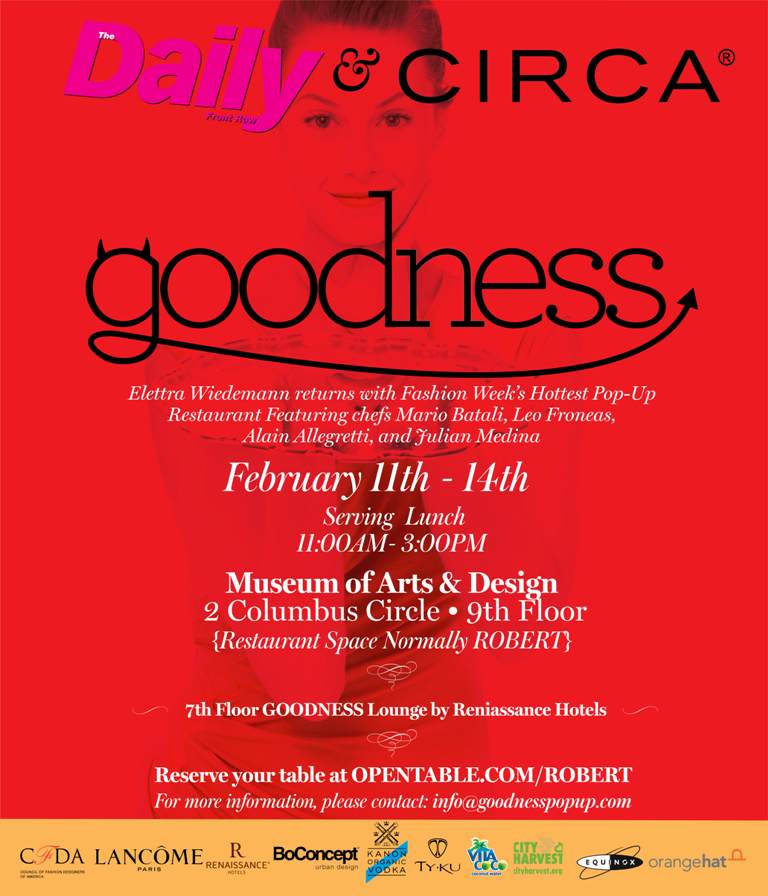 As some of you may remember from last fashion week, I worked with the glamorous and wonderful supermodel Elettra Wiedemann on her full service Fashion Week pop-up restaurant, GOODNESS. Well I'm excited to report that for this New York Fashion Week season, GOODNESS returns with an all new line up of prominent chefs including Mario Batali, Leo Forneas, Alain Allegretti and Julian Medina.

Open for lunch only from 11am-3pm on February 11th through the 14th, this years GOODNESS will be held at the Robert, located on the top of the Museum of Art and Design. And if you've never been to the Robert for dinner or drinks, you need to! Besides having a very stylish interior, the view is to die for! Set on the 9th floor of the Museum, it has ceiling tall windows that overlooks Columbus Circle and Central Park.
Do I have you convinced yet? Sponsored by The Daily Front Row and CIRCA, we're pleased to announce that this years GOODNESS has earned the CFDA's Health Initiative Stamp of Approval. Here's the line-up:
Saturday, Feb 11th – Mario Batali of Babbo

Sunday, Feb 12th – Leo Forneas of ROBERT


Monday, Feb 13th – Alain Allegretti of La Promenade des Anglais

Tuesday, Feb 14th – Julian Medina of Toloache

Menu: A la carte or Prix fixe menu ($35)
Reservations are now being accepted at goodnesspopup.com
Also for the first time, Goodness is proud to present the GOODNESS Lounge by Renaissance Hotels on the 7th floor of the Museum of Arts and Design (two floors below the pop-up restaurant). Designed as a comfortable "living room" and wi-fi lounge for editors and fashion week goers to relax and recharge, the GOODNESS Lounge by Renaissance Hotels will feature a touch-up station from beauty sponsor Lancôme. CIRCA, the world's leading global buyer of fine jewelry, will also showcase their collection of recycled, sustainable luxury jewelry in the lounge, offering attendees access to their collection of antique and contemporary collectible gems. GOODNESS also partnered with Talenthouse and DJ Zen Freeman to choose a resident DJ, and are pleased to announce the winner of our DJ competition, DJ Travisty, who will provide a soothing soundtrack of lounge music and modern remixes for the lounge.