Who's on top of their holiday shopping? Here are some of my personal picks of gifts I've gotten (mostly for myself) and loved!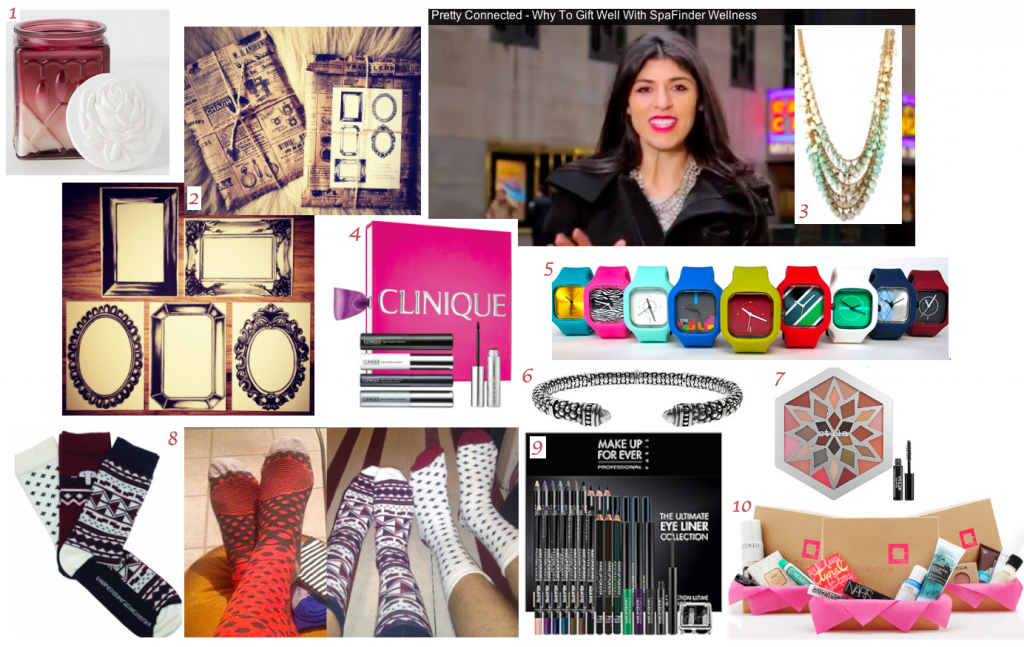 1. Royal Apothic Conservatory Collection Candle in scent English Rose ($26) – this candle is lie a little piece of heaven. It's a soy-blend wax and burns for 60 hours. It's larger then it looks in the picture (5″h, 3″ square) and is gorgeous from package to scent. It's like walking through a rose garden, the scent is superb.
2.  Sarah H. Reynolds Original Frame Notecards & Envelopes ($22/set of 10) – I love sending cards and this versatile set includes two of each print of five original charcoal frame drawings and ten envelopes by NY based artist, Sarah Reyholds. Leave your love note, thank you, or even your own drawing or picture inside one of these beautifully drawn frame (or use stamps!) and send. I like that they are artsy and give you a foundation to customize the card and they work for number of different occasions so they are handy to have around.
3. International Sanctuary Beautiful Green Necklace ($40) – As seen in my video campaign with SpaFinder (and regularly in photos on my instagram page, I wear this necklace all the time. This website (and necklace) are amazing. iSanctuary works to help victims of human trafficking reintegrate by employing survivors.  Their mission to end human trafficking through the sale of their products, which are all hand made. The necklace is made out of faux pearls, transparent tear-drop beads, one size fits all, 18.5″ long
4.  Clinique Lashes Top to Bottom Mascara Set ($29.50) – This is the perfect gift for any mascara lover (so basically every girl over the age of 13). It includes all of their top-selling mascaras: High Impact Mascara (0.14 oz.), High Lengths Mascara (0.17 oz.), Lash Power Mascara (0.09 oz.), Lash Doubling Mascara (0.14 oz.)  + their  Bottom Lash Doubling Mascara (0.14 oz.). Which Clinique mascara is the best? Here's an easy way to find out.
5. Modify Watches (prices range $30 – $45)- These watches comes in two sizes, mini and classic. I'm personally all about the classic size since I like a bigger face and it makes the watch look more unisex (my boyfriend and I share). These watches are so fun, you can mix and match the straps with different faces and their new holiday collection is so festive!
6. Lagos Signature Caviar Bracelet ($275) – Another piece of jewelry I'm rarely without — it's been such a welcomed addition to my fine jewelry collection. It's so classy on it's own or mixed in with a sea of bangles and bracelets. It bends gently to adjust to the size of your wrist and fits so comfortably.
7. Stila Snow Angel Color Palette & Stay All Day Waterproof Volumizing Mascara($39, on sale for $28) – how is this on sale and not sold out? It contains $270 worth of Stila eyeshadows, blush/bronzer and a mini mascara! I'll admit it's a bit challenging to use the blush brush on the cheek products since the space is so tight but I love their eyeshadow and the value of this set is incredible.
8. WeSC The Pansy Socks ($2o/pack of 3) – To some socks are just socks but not for me, I'm picky. They are warm, comfortable, soft (they are made of 80% cotton, 15% polyamide, 5% elastane) and I love the designs — especially the orange pair! Available on KarmaLoop.com
9. Make Up For Ever Ultimate Eye Liner Collection ($160. $277 value) A black pencil box featuring 14 full-size eyeliners (in a large array of colors) and a double pencil sharpener to create a multitude of looks.  The only way I could love this set more is if it was all black — I go through their black pencils like water!
10. Birchbox  ($10/month + free shipping) – For anyone that tells me how envious they are over how many products I get to test, I tell them to sign up for BirchBox. It's an incredible gift for any beauty lover since you get a surprise package every month, mailed to your door that's filled with beauty, hair and skincare deluxe samples. It's a great way to be introduced to new projects and give them a whirl before purchasing. Plus they sell all of the products they mail out on their site so easy to replenish and they offer a beauty rewards program on all of your purchases that can be redeemed for free (full-size) products.