With Earth Day right around the corner (April 22nd), AVEENO kicked off the month with an ACTIVE NATURALS Forest in New York's Times Square to launch their BE AN ACTIVE NATURAL campaign. While I've been to many pop-up shops, this is definitely my first pop-up forest and most enjoyable (and natural) walk through Times Square!
The forest was part of the AVEENO BE AN ACTIVE NATURAL™ program, which is in an initiative to help raise awareness for healthy living and environmental sustainability. The program, encourages consumers to make small changes in their daily lives and they are rewarding everyone who joins them on FACEBOOK (www.facebook.com/aveeno), and makes a pledge towards a healthier planet. By doing so, you will earn points that can be exchanged for rewards, such as AVEENO product samples, tree seedlings and sustainable tote bags.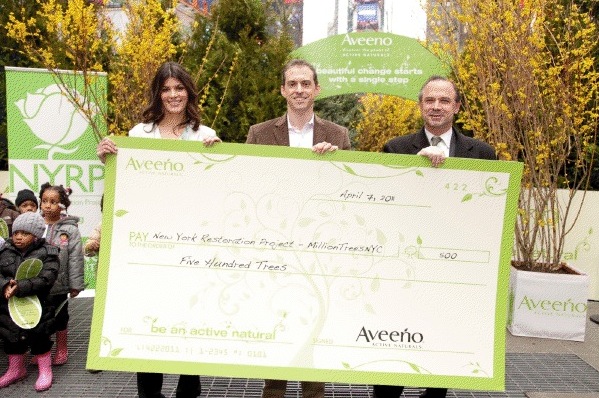 Joining the celebration was AVEENO Consultant and Sustainability Expert and model Summer Rayne Oakes who has partnered with the brand to raise awareness about the benefits of trees and consumer responsibility to the environment. She alongside Mike Marquis of AVEENO presented NYC's Park Commissioner Adrian Benepe with a check for 500 trees to the City of New York Restoration Project's Million Trees initiative; which will plant and care for one million new trees throughout New York City's five boroughs by 2017.  AVEENO additionally donated all of the trees from the forest to the cause.
As an AVEENO Ambassador, it was a very proud moment to be apart of this event and be associated with a brand that's making such strides for our planet. Beautiful change really does start with a single step. What steps will you take?
What I wore – Jacket: Theory, Top: Nicole Miller, Bag: Ferragamo. Hair style: Blow-out by Angelo David Salon