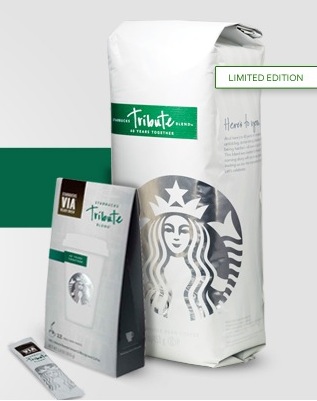 To commemorate it's 40th anniversary today, Starbucks is launching a new limited edition VIA Ready Brew flavor, Starbucks Tribute Blend. The latest edition to the VIA family is a combination of four different beans – aged Sumatra, sun-dried Ethiopia, Papua New Guinea, and Colombia.
If you haven't gotten in on the VIA Ready Brew instant coffee craze yet (and you enjoy Starbucks coffee), I suggest you try them. Some of you may remember my post on being converted from a skeptic to an instant coffee fan (thanks to VIA). They are freakishly similar to their brewed coffee –but all you need to do to a VIA is pour the packet into a cup of hot water. It's incredibly convenient for anyone on the go or who travels a lot. Plus it comes in a variety of existing Starbucks flavors so you're not pigeonholed in your options.
Additionally to mark the big day, Starbucks is launching Tribute Blend Whole Bean Coffee, Canister, and Coffee Press.
Four beans, four decades! Wow!
For more information on the Starbucks Tribute Collection visit Starbucks.com
Disclaimer: Pretty Connected received a sample of Starbuck's VIA Ready Brew Tribute Blend by a company representative. Pretty Connected was under no obligation to write this review.