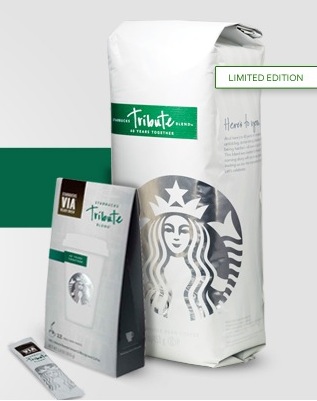 To commemorate it's 40th anniversary today, Starbucks is launching a new limited edition VIA Ready Brew flavor, Starbucks Tribute Blend. The latest edition to the VIA family is a combination of four different beans – aged Sumatra, sun-dried Ethiopia, Papua New Guinea, and Colombia.
If you haven't gotten in on the VIA Ready Brew instant coffee craze yet (and you enjoy Starbucks coffee), I suggest you try them. Some of you may remember my post on being converted from a skeptic to an instant coffee fan (thanks to VIA). They are freakishly similar to their brewed coffee –but all you need to do to a VIA is pour the packet into a cup of hot water. It's incredibly convenient for anyone on the go or who travels a lot. Plus it comes in a variety of existing Starbucks flavors so you're not pigeonholed in your options.
Additionally to mark the big day, Starbucks is launching Tribute Blend Whole Bean Coffee, Canister, and Coffee Press.