From stocking stuffers to hostess presents to secret santa gift! Here are some of our favorite finds for under $25!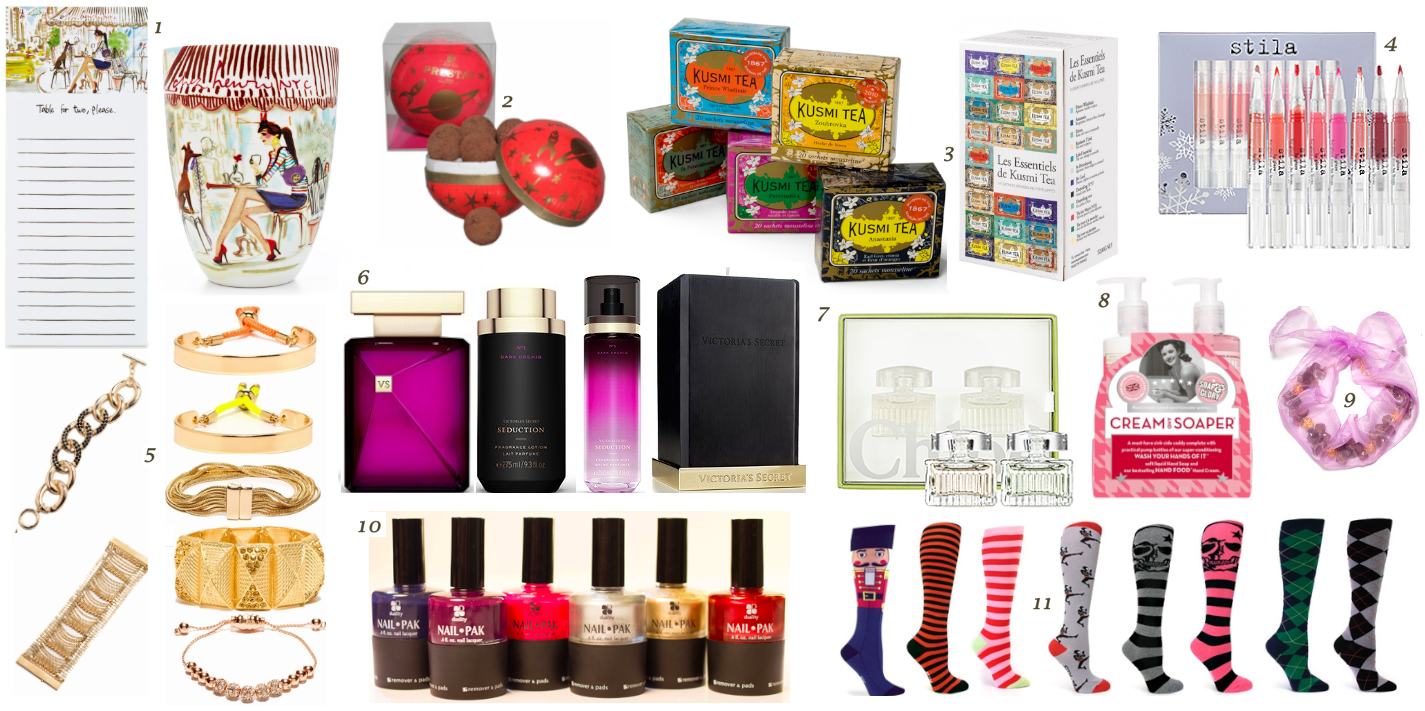 1. Henri Bendel Cafe Girl List ($15), Cafe Girl Mug ($25) – I'm a Bendel's girl, I love everything about walking into their Fifth Avenue store, the history, the decor and their signature line.  They have a great assortment of gifts under $25, two of which you can find in my kitchen. Their over-size mugs are a pleasure to wake up to and their line of magnetic note pads are perfect for hanging on the fridge for your grocery lists.
2.Prestat Rocket Bauble Christmas Ornament ($12.95) – This ornament is filled with Dark Chocolate Sea Salt Caramel Truffles! (Just the thought of it makes me drool a little.) It's no wonder they are the chosen chocolate company of Queen Elizabeth ll — and were served at Kate and Will's wedding. Perfect for a hostess gift, housewarming or late night choc-attack. Additional truffle flavors available, purchase through chelseamarketbasket.com
3. Kusmi Tea Essentials ($21.96) – This is my go-to hostess gift. It never fails, everyone loves tea or entertains guests that do. This sampler set includes 24 individually-wrapped muslim tea bags featuring 2 packs each of their 12 top-selling teas. If you already know your present-seekers favorite flavor, go for the box ($13.49/pack of 20), the packaging is fancy enough to gift, or go for the big shabang and buy the Tea Chest ($56) — another staple in my kitchen.
4. Stila All is Bright Lip Glaze Set ($25, $110 value) – What's not to love, this set features Stila's signature ultra-high shine lip glosses in shades: Jack Frost, Jingle, Holly, Jolly, Joy, Splendor, Black Cherry and Sugar Plum.
5. The Limited jewelry (on sale for $10-20) The Limited always has great selection of stackable bracelets (amongst other great jewelry finds) and currently they are running a 50% off all jewelry sale. Get in on it!
6. Victoria's Secret Dark Orchid Fragrance ($20-$65) -VS just launched a new ultra sultry fragrance Dark Orchid, available in an Eau de Parfun ($49-$65), Lotion ($20), Fragrance Mist ($25) and Candle ($30). Top notes include Creme de cassis, blood orange, crushed plum, pineapple blossom, bergamot and yuzu zest.
7. Chloe Miniature Duo ($18) – I love both of these Chloe fragrances (and the packaging) so this is a double win for any Chloe fanatic like myself. The set includes Chloé Eau de Parfum (0.17 oz) and L'Eau de Chloé Eau de Toilette (0.17 oz). They're so little and cute!
8. Soap and Glory Cream and Soaper Hand Rack ($18) – This makes for a great hostess gift or silly girlie present. Soap and Glory has this very I LOVE LUCY- like fun packaging that just makes people happy. And who can't use a liquid soap and hand cream gift set? It adds to the bathroom decor, and feels and smells great.
9. The Necklace Saver ($8.95) – I spent 45 minutes last week untangling 3 silver chains that had intertwined themselves into a helova knot — not cool. I should have used a Necklace Saver, it's a fairly straight-forward concept, stick the necklace through the tulle tube, clasp it and tie the ends. Problem solved!
10. Duality Nail Pak – Stocking stuffer alert! This 3 in one nail polish – as in it includes a nail polish, nail file and nail polish remover pads within the bottle — is genius! It's the perfect gift for anyone that travels or just plain enjoys the convenience of it all. Their holiday collection is filled with great metallics, reds and a sleek navy shade.
11. Sock it to me ($9) – From holiday themed socks to argyle, these are some of the most festive and over the top fun knee socks on the market.