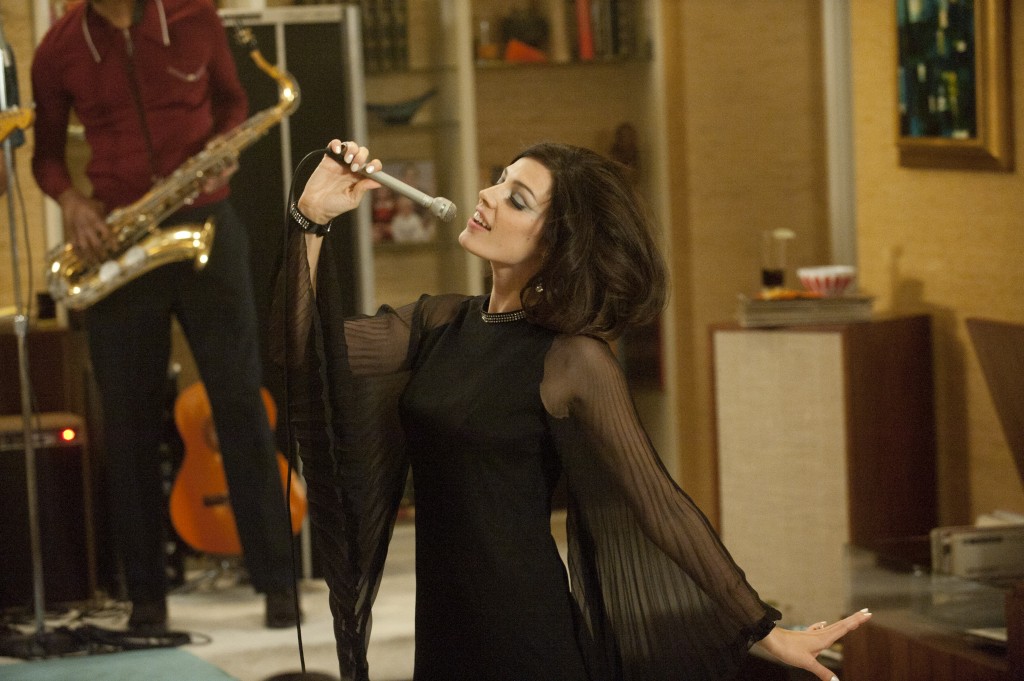 After Sundays much anticipated 2-hour premiere of AMC's Mad Men, which drew in a jaw-dropping 3.5 million views, we saw Jessica Pare really step into the limelight with her on-air performance of 60s hit 'Zou Bisou Bisou'. On Monday, I posted that Lionsgate was releasing Pare's rendition to iTunes (now available for purchase) and since then I've had the pleasure of interviewing the actress!
While she was careful not to give too much away about what's yet to come for her character, Megan Draper (she'd hate to spoil the surprise) we did get some time to talk beauty, costumes, her new 'Zou Bisou Bisou' single and of course Don Draper!
How does it feel to be in the spotlight and to have performed the 'Zou Bisou Bisou' scene?
Jessica Pare (JP): I'm thrilled, it's so exciting. I never thought I would make an actual single. [At the time] it was a gutsy  move and a lot of fun to do. And certainly a lot of the awkwardness and embarrassment was felt. I think it takes a lot of courage to do something like that."
Do you have any past professional singing experience?
(JP): No, [I sing] in the car and in the shower and that's about it. I have a bit of a rock fantasty so it was such a gift to professionally record a song.
Had you heard the song 'Zou Bisou Bisou' prior to the script and how did you prepare for it?
(JP): No, I listened [to song] a lot. Matt [Weiner] had comprehensive notes to go along with [the scene]. I think it took three six-hour sessions [to learn], which was my first hint that it was going to be a little bit more complicated choreography than I had expected.
How has your character, Megan changed since last season?
(JP): Megan is a little more confident. She's Mrs. Draper now, she's no longer just a secretary to pay the rent. She's the new and reformed Megan and a bit more fashion forward and her outfits [are beginning to reflect] the late 60s.
It took a lot of confidence for Megan to put that performance on in front of all of her coworkers for Don and it's clear she has a lot of empowerment in her own home. Will we see any of that confidence translate professionally for Megan?
Megan wants to be really good at [her job]; she listens carefully, and wants to please Peggie and Don professionally and in other areas… She is a character that lives in the here and now but she's not without ambition. She wants to have a career and she wants to be a working woman.
How long does it take to become your character?
(JP): You come on set in the morning in your tee shirt and jeans and in anywhere from an hour to an hour and half [I'm transformed]. The whole team on the show hair, wardrobe and makeup work so beautifully together.
What beauty tips have you picked up from the show?
(JP): I LOVE lashes now!
And what does Jessica Pare have to say about working with co-star Jon Hamm? "He's very smart, fun, mature, he's very sexy obviously… John Hamm is such an amazing wonderful guy, I love working with him so much. He's just really easy to work with… how do I phrase this? There's nothing bad about working with him."
For any of you that missed the performance…