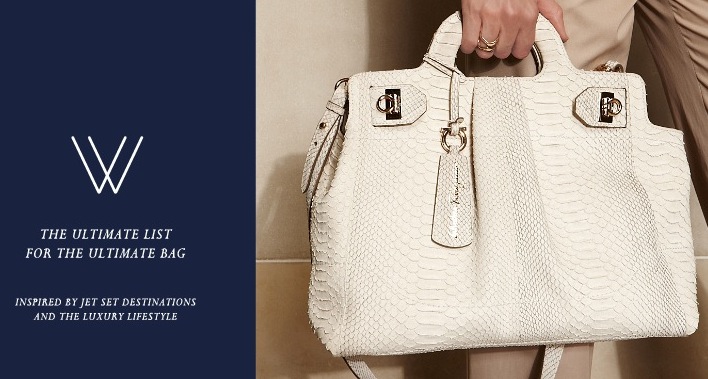 Today, Salvadore Ferragamo launched a really cool social media campaign and as a social media consultant I think it's actually quite brilliant.  Basically Ferragamo invites you to disclose what inspires you and your style. Then through a ranking system, the person who receives the most votes makes it to the top of the W List.  The winner has the opportunity to inspire a one-of-a-kind custom W bag designed just for you by Ferragamo Creative Director, Massimiliano Giornetti. If you come in 2nd-5th place you will be gifted a special edition Spring/Summer 2011 runway W bag.  And no matter were one lands on the list, Massimiliano will be looking to hand-pick someone he finds especially inspiring to receive one last special edition W bag.
VOTE FOR ME!
When I signed up I was ranked at 60, within minutes of posting it on my Facebook wall I went to 26 (thank you friends for that), so help me move higher up the W List by voting for me (especially before this promotion spreads like a wildfire and I'm back on the bottom!).  Click this link: http://wlist.ferragamo.com/#/1086 then next to my name 'LARA EURDOLIAN' hit 'CAST YOUR VOTE'.  It take roughly 5 seconds and you don't need to sign up or give any contact information to vote. You can vote once a day –so vote for me once or daily, I would greatly appreciate your support. After all, you're what inspires me.
Plus the whole theme is traveling and after being on over 20 flights just this year, I think I'm qualified for a jetsetter bag.
And if you'd like to create your own profile and try for yourself, I support you! Voting begins today and ends January 22nd. Good luck!
To sign up or for more information visit http://wlist.ferragamo.com/