By now some of my avid readers have probably noticed I have thing for ping pong. Unlike most table tennis players, the obsession doesn't come from a table in my basement or game room in my college dorm, but from a few friends.
Once upon a time these friends, filmmakers Jonathan Bricklin, Franck Raharinosy and Bill Mack all lived together in fabulous loft in TriBeCa and bought a ping pong table. They started playing, didn't stop, friends would come over, more tables we're bought, more friends would come over and eventually they started throwing a weekly party/tournaments named Naked Ping Pong. While no one was actually naked, the parties attracted everyone and anyone from  jocks to hipsters to nerds, artists to celebrities and everything in between; creating a diverse environment that was effortlessly fun. In those days I didn't play, but I wasn't the only one, and it didn't matter. The mix of great people and music in such a social atmosphere made it still one rockin' party.
With all the press they we're receiving and popularity of the parties they decided to take their idea to the next level. Together with investors Susan Sarandon and Andrew Gordon they opened SPiN New York; a 13,000 square foot table-tennis social club complete with a gourmet restaurant, Ducks Eatery and bar.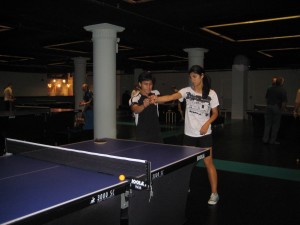 Although the boys no longer live together, and Bill is not involved with the club, I still think back to the days when I used to just show up to their place all the time (and generally unannounced), day or night and became the 'self-proclaimed' Kimmy Gibbler of that apartment. Now with SPiN New York I have a new home to visit, with some added family members consisting of staff, pro-players, legends and regulars, who's friendships I value immensely. And while I've upgraded my social status from an annoying Full House character to the #1 Member of SPiN (I got a fancy membership card and everything!), I feel oh so very fortunate for getting to be apart of the ride and for everything Ping Pong has brought to my life.
This weekend, SPiN New York celebrates their 1-year anniversary, and what a year it's been. Thinking back to before it opened, it's mind blowing how lucky I was to be apart of this ping pong revolution from the start. Having been one of the lucky few to get a preview of the club before it was built or the floors were put in; I had the pleasure of having my heels stick to the ground while Jonathan's gave me the tour and described where the tables, bar and restaurant would be built.
There there was the time I got a call to go straight to Andrew's apartment. The boys we're doing a private food tasting by chef Will Horowitz of Duck's Eatery to help determine which restaurant would go into their club.  Four hours later after roughly 8 courses a person, and a few stomachaches from being so full  (our fault, not Will's…it was too good for us to stop eating), a decision was made and Duck's was chosen!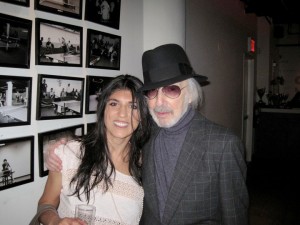 Then came the official launch party hosted by Vanity Fair and Hermes.  I could go into detail about how great an event it was but I'll just link to my post from last year instead.
Since then SPiN has hosted a series of private parties, events and fundraisers and have made the headlines of some of the most notable publications. They celebrated the opening of SPiN Hollywood at the Mondrian Hotel and SPiN Milwaukee, with several locations slated to open globally in the next year.  Many years ago, before he even owned a ping-pong table, let alone conceived SPiN, I heard this great story involving Jonathan wanting to take over the world, touché Bricklin. Remember the time you said 'You're #1, you can do whatever you'd want?' Didn't think so, I should have gotten that in writing. Jonathan and Franck are also are in process of launching a alternative reality TV series based on SPiN. Knowing them, I'm sure they have countless other things in the works.
So while I can't keep up with all of the great happening in their lives anymore, there's little I wouldn't do for them, and I couldn't be prouder or more appreciative for all that they've done for me.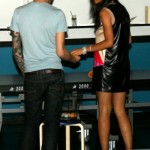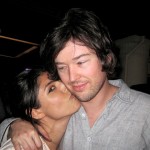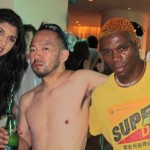 Happy anniversary and cheers to a great year SPiN, and to all the wonderful things to come!
SPiN New York, 48 East 23rd Street (between park and Madison). P: 212.982.8802 www.spinyc.com