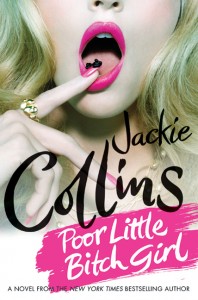 The wildly entertaining and ever so charming Jackie Collins is at it again with her latest novel, 'Poor Little Bitch Girl'.  No one does scandal like Jackie Collins.  Having a front row seat to the Hollywood scene, she knows how to write a page-turner, which is evident if you've ever read any of her 26 other books.  And while Jackie is privy to all the gossip, she can keep a secret; these stories make for great characters and scenarios in her books.
In 'Poor Little Bitch Girl', take for instance Annabelle Maestro, the daughter of two movie stars, who later grows up and takes on the alias Belle Svetlana, Madam to the most exclusive call girl business in NYC.  Annabelle changed professions once she was too old to become an accessory to her celebrity parents, and could no longer afford supporting her boyfriend's coke habit based on her parent's allowance. Then there is Denver Jones, the hotshot attorney and Annabelle's close friend in high school until Denver couldn't keep up with Annabelle's popularity and began hanging out Carolyn Henderson, the 'brainy kid'.   Carolyn grows up to become the personal assistant and mistress to a very powerful (and married) Senator in Washington.  Well these ladies are no longer in high school, and mix in a murder to the already looming secrets and scandals; the book only get juicier and juicer as the story unfolds.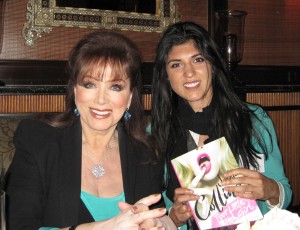 Pretty Connected had the pleasure of joining Jackie Collins to get the inside scoop on 'Poor Little Bitch Girl'.  She began with, "Do you like the title? Well I'm getting a little controversy over it. I did 20 radio shows this morning and some of them didn't want to use the title, saying our audience may not like it this early in the morning.  But it's a good title, isn't it?" It definitely caught our attention!
What's so wonderful about Jackie is though she is part of the celebrity scene, and invited to all those fabulous parties, she's very down to earth and easy to relate to.  That's likely why she has everyone talking and is able to get so much material and inspiration for her novels. And she's very hard working, and writes all of her novels longhand!  Archaic? Hardly, it is actually quite amazing.  While Jackie is not about to change her ways, she is very technologically savvy (Jackie blogs, is on twitter, and facebook).
Upon completion of her books, she loves to have her originals leather bound.  And what you see is what you get, she is very rarely edited. "I'm not fond of being edited because I edit myself very stringently as I go along.  If I fail, I want to fail on my mistakes not on somebody else's.
Most of us aspire to write one novel in our lifetime; Jackie is on her 27th, all of which have been New York Times bestsellers.
Poor Little Rich Girl, $26.99.  For more information and tour dates visit JackieCollins.com.
Affiliation: A copy of this book was given to Pretty Connected by a company representative.  Pretty Connected was under no obligation to write this review.