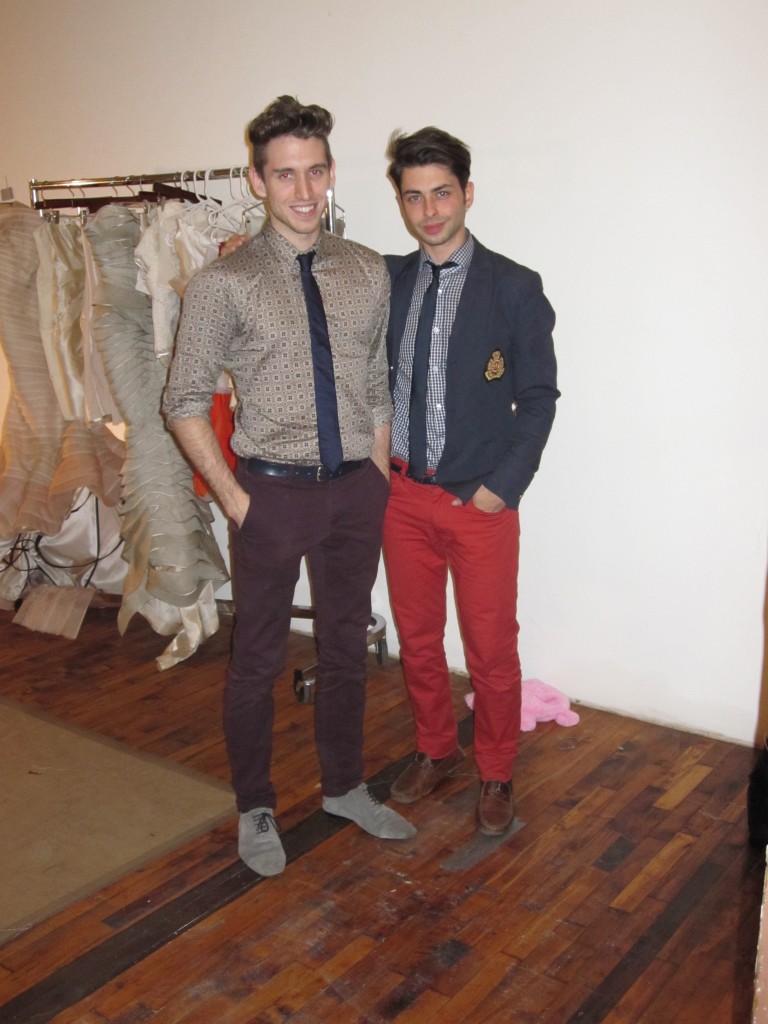 I had the absolute pleasure of spending the day with Daniel Feld and Wesley Nault of WesFeld, their new fashion label, in their Williamsburg studio.  The two former Project Runway alums, and now design partners, are the winners of the Plastics Make it Possible fashion competition sponsored by the American Chemistry Council and Gen Art.
As winners, Daniel and Wesley received $10,000 to create and showcase their collection on February 10th, during New York Fashion Week for the Gen Art New Garde Show, hosted by Molly Sims.
When I first read about the win, it came as no surprise.  If anyone can handle plastic, it's Daniel Feld.  Who can forget that memorable dress he made out of blue plastic cups on the premiere of Project Runway, Season 5?  I'm still blown away by it.  And with Wesley Nault on his team — oh the places they will go.
Here's what these two lovely designers had to say:
Pretty Connected (PC): How did you hear about the Plastics Make it Possible design competition?
WESFELD (WF): Gen Art contacted us and we thought it would be a great opportunity.
PC: Tell me about the collection and the parameters given to you by Gen Art.
WF: Our major sponsor was The American Chemistry Council and Plastic makes it possible. We had to use all plastic-based materials for this collection.
PC: What was your inspiration for the two dresses you entered into the competition?
WF: The pale, pink dress was inspired by the lines of a conch shell, and the other was inspired by the skeleton of a trilobite.
PC: What was the first thing you did when you found out you won?
WF: We were very excited and started to brainstorm immediately. We were working on some freelance projects that we had to put on hold.
PC: How do you two work together?  Is one more involved in the concept and the other in the execution?
WF: We work very well together.  We infuse both of our styles, and work off each other strengths.
PC:  What do you do on your spare time?
WF: What spare time?
PC:  If you weren't designers what would you be?
Daniel: A vet or a Zoologist
Wesley: An Architect
PC: How has being on Project Runway changed your life?
WF: Project Runway brought us together. Without the show WESFELD would not exist!
PC: What's next? Will you both continue to work together under the WESFELD label?
WF: We will continue to be business partners and work together.  We plan to do another collection after this one.
PC: Do I get one of the sketches from your inspiration wall when you're done?
WF: You of course can have a sketch.
Score!
I had an amazing time exploring the studio, helping them pick out the models for the show, seeing their inspiration wall, and viewing their beautiful line.  It's simply stunning, although there is absolutely nothing simple about it. They even designed the shoes for the show!  See my photo gallery below for a sneak preview and behind-the-scenes shots from their studio.
Thank you boys for a spectacular afternoon, and for letting me play dress up.  I'm so excited for you and this show!