Susan Sarandon may have played a Queen in Exit the King, but off stage she remains on her thrown as the Queen of SPiN.  Susan, alongside owners Bill Mack, Franck Raharinosy, Jonathan Bricklin, and Andrew Gordon welcomed guests to their 13,000 square feet table tennis social club this past Thursday to their grand opening hosted by Vanity Fair and Hermes.
The celebration and space was nothing short of pure magic. In fact it was out of control AMAZING. With a 30 ft bar and lounge that looks into the 23rd street subway station and 17 ping pong tables on Olympic caliber flooring, it's like nothing I've ever seen (and after 8yrs in NY, that's rare).
The room was filled with members, celebrities, heartthrobs, models, nerds, hipsters, fashionistas, Olympians, legends, reporters, artists, bankers, – oh and Spider-Man. No matter your status, age, or playing ability, Spin offered an equal playing field and allowed us to be kids again.  They gave us game time on their courts and served gourmet popcorn and grilled cheese compliments of their restaurant, Ducks.
Guests played dress up in Hermes scarves while waiting for their turn to be photographed. Not only did the full size pictures print out instantly, but it also allowed you to enter your email address to have the images sent to your account.

I clearly had a lot of fun with this feature.
Later on the party continued in their private Fred Perry room.  I wouldn't even be able to do that room justice in a description, so I'll just suggest taking a tour.  Unless they have a special event, Spin is open to the public daily from 11am to Midnight.  I strongly recommend popping your head in and checking it out.
The only thing hitting harder then the opponents forehands (and the drinks!), was how absolutely proud I was of owners Bill, Jon and Franck for pulling this off.  The boys behind Naked Ping Pong (unfortunately they were always clothed) not only made table tennis cool to the masses but also were able to create a fun and unique place, which makes such a diverse group of people happy. Having had the opportunity to watch these filmmakers go from having one ping pong table in their apartment to creating the Taj Mahal of table tennis has been probably been one of the most enriching experiences of my life (well that and the time I made them watch Mama Mia with me).
SPiN offers Standard and Pro Courts (for those of you that know the difference), lessons, camp, locker room, private Fred Perry room, as well as a 30 foot bar and lounge area. Ducks, Spin's restaurant, is scheduled to open officially later this week. My legs were so sore the next morning from playing! It's an unbelievable work out. I'm going back for camp!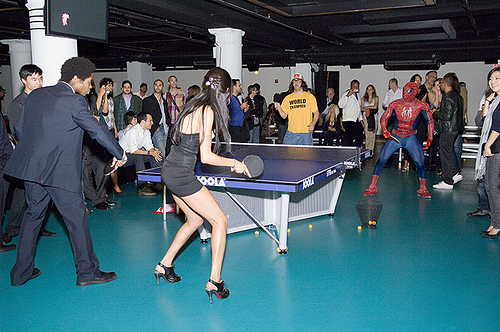 Think about it, where else can you see a model, a superhero, a celebrity and an owner play ping pong? Only in NY (for now…).
SPiN New York, 48 East 23rd Street (between park and Madison). P: 212.982.8802
For more information: www.spinyc.com
If you liked this post check out the link to their 1 year anniversary post  HERE
Affiliation: Proud first member of SPiN New York and received an invitation for the launch event by a company representative.