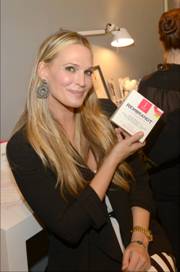 Recently I caught up with the ever so delightful model/actress (and new mom!), Molly Sims at BLOW salon in NYC for a special event hosted by Rembrandt and Neutrogena.  It was an evening filled with teeth whitening touch ups, hair blow-outs and mini makeovers by Neutrogena brand ambassador Amy Oresman.
While at the event I ran into Shy from the Beauty and the Feast Blog and together we took the opportunity to ask Mrs. Sims a few questions and get the 411 on her beauty essentials (and then of course I saw props and conned everyone into taking a funny pic).
Congratulations on your beautiful baby boy! How did your life change once you became a mother?
Molly Sims (MS): My showers got really short! I went from a 30 minute shower, which is terrible to admit, to like a two minute one. I used to have a lot more time on my hands, and now there's
always something. And of course, a lot more laundry. I got a spitter on my hands. He's a happy spitter, but he's a spitter.
You're clearly someone who's always on-the-go, so what are some of your essentials for a quick and easy makeup?
MS: The best thing I can tell you is use a primer. I love Neutrogena's [Healthy Skin Primer]. You need makeup that's going to last all day. I mean, you think you're going to reapply, but you really never do. Blotting tissues are amazing. I also love Shu Uemura's eyelash curler. And for lip gloss, I love Dior's gloss, it brings out your natural lip color. Their Addict Lip Glow.

So what do you think about Remembrandt's Whitening Strips?
MS: I used them for my wedding! I actually tried to get my teeth whitened for my wedding from a professional office. They use a light to bleach your teeth, and I couldn't get through it because it affected my nerves, I got like a "zinger" pain. I did two weeks of Rembrandt Intense Stain that dissolve in your mouth. Three times a day, five minutes, amazing.

How soon before your wedding?
MS: Two weeks. And paid a lot of money to first get my teeth done at a proper place, but I couldn't do it. I couldn't stand it. If you're getting married, you have no idea how many pictures you will have. If you drink coffee, tea, or wine, you have to get these strips. And you know, they're cheaper and I think even work better than other brands out there.

Regarding whitening your smile, I don't think it's always intuitive to people on how it changes your look. At what point did you realize how important it was in your career?
MS: From the beginning. I had braces for like three years and had a horrible overbite so I've always been conscious of my teeth. And probably because they're so big, I've been even more conscious! So in college when I first started modeling did I really become more aware. I always tell people that the two things people always forget always are their eyebrows and their teeth. Now with people drinking a lot more Starbucks, it's even more important to keep them white!
You look amazing, who are you wearing tonight?
MS: My jacket is Prada, the dress is BCBG MaxAzria and they earrings are Catherine Beth.
I also got this handy dandy card filled with tips from Molly Sims and Amy Oresman: