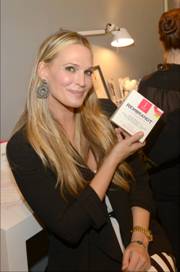 Recently I caught up with the ever so delightful model/actress (and new mom!), Molly Sims at BLOW salon in NYC for a special event hosted by Rembrandt and Neutrogena.  It was an evening filled with teeth whitening touch ups, hair blow-outs and mini makeovers by Neutrogena brand ambassador Amy Oresman.
While at the event I ran into Shy from the Beauty and the Feast Blog and together we took the opportunity to ask Mrs. Sims a few questions and get the 411 on her beauty essentials (and then of course I saw props and conned everyone into taking a funny pic).
Congratulations on your beautiful baby boy! How did your life change once you became a mother?
Molly Sims (MS): My showers got really short! I went from a 30 minute shower, which is terrible to admit, to like a two minute one. I used to have a lot more time on my hands, and now there's