Whether you're planning a trip to the beach, a lake or Central Park, there's some key don't-leave-home-without products that make the leisure day in the sun that much better. And with summer in full swing here are some of our top beach bag picks!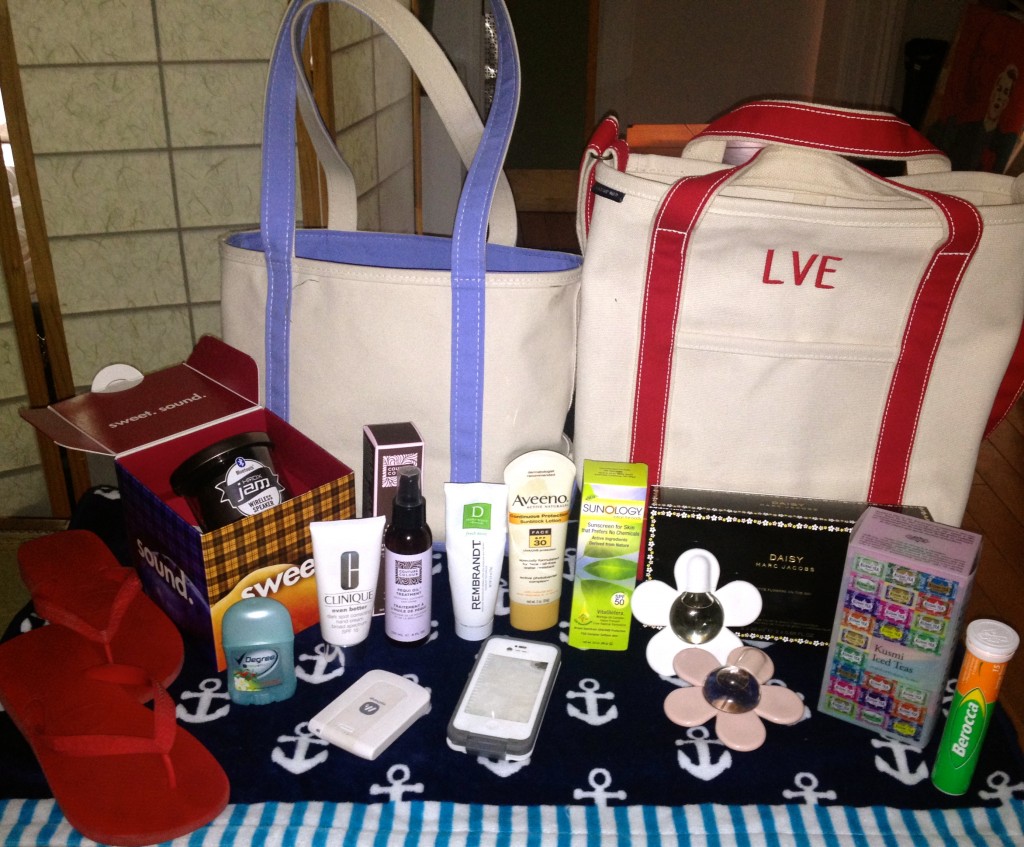 Morning routine: Start fresh!
1. Rembrant Deeply White Toothpaste – It's an all-in-one fluoride toothpaste with Active Dental Peroxide that helps safely whiten below the enamel to remove deep and surface stains. I like that it offers a deep whitening without being too strong and makes for a pleasant brushing experience. The packaging is simple and clean and aesthetically looks great in my bathroom along with it's Deeply White Mouthwash counterpart (which I also use). At 2.6oz, it's big enough for your bathroom and yet small enough that it fits comfortably in most makeup cases if you're on the go and need an afternoon freshen up.
2. Degree NaturEffects deodorant– With temperatures hitting close to 90 degrees do everyone a favor (including yourself) and apply! I use the orange flower + cranberry scent which smells lovely. As both an anti-perspirant & deodorant in one, it keeps me dry and is offers long-lasting protection. Plus it goes on smooth and has never given my clothes a single mark.
The gear!
3. THE BAG! People often use weekender bags interchangeably with beach bags and unless you're packing for the whole fam that can get a little bulky (plus the bigger a bag, the more you'll fill it with stuff you don't need). I opt for the L.L.Bean Boat and Tote bag in size medium ($33.95). Opting for a size smaller then the weekender makes the bag much more comfortable to hold while still guaranteeing room for all your beach essentials. Plus it can hold a towel comfortably if you roll it so half shows out of the bag. The best part is it zips at the top keeping everything intact and is incredibly sturdy making the bag virtually tip-proof. Only thing missing is pockets.
If I don't need to carry my towel and it's more of a wine in the park outing, I use my Lands' End Medium Natural Open Top Canvas Tote Bag ($25.50). It's considerably taller then most tote bags which is great packing the champers or beverages in general. It also has pockets galore to keep you extra organized.
4. Havainas Top Sandal ($18)- No matter how many rubber flip flops I buy, I always end up going back to Havianas! They are such better quality! The souls don't flake, or look ratty normal wear; they offer great support and are as comfortable as flip flops can be for being made of rubber.
5. Beach Towel – when you get more compliments on your towel then you're swim suit, you know you're onto something. Fun, patterned beach towels are always the way to go!
The beverages!
6. Water, water, water, stay hydrated! Although sometimes you just need a little extra flavor (and I suggest staying away from Soda since it's terrible for your body and dehydrates you). Instead I'm a Kusmi tea fanatic! Hands down they are my favorite tea brand of the the moment. They have great flavors and are delicious when iced.  If you're new to Kusmi, try their "Kusmi Iced Teas" which is a mix 12 of their tea offerings (2 packs per flavor) so you can get better acclimated with their flavors. (not that you can go wrong).
I've also been taking Berrocca, a vitamin and mineral supplement that is added to water (much like an alka-seltzer) and fizzes into an orange flavored 5 calorie beverage that's meant to support mental sharpness and physical energy. It has a bit of a vitamin C aftertaste but otherwise it's a nice way to jazz up a glass of water and get in a few nutrients.
The electronics..
7. myCharge extended batteries- I don't leave home without it! It's an extended battery for my iPhone and offers about 40% extra juice, making it the ultimate savior when there's no outlet in site. It plugs into a USB drive to charge and then it plugs into your phone much like a regular charger to give it that extra boost. It's super compact and lightweight. And their website offers longer battery packs or additional battery styles and types for tablets and alternate smartphone.
8. LifeProof iPhone Case – This barely-weighs-anything iPhone case makes your phone, dirt proof, shock proof and get this, waterproof!!! Literally, you can drop it in water. It's the best solution to protect your phone from any water, dirt, sand activities.
9.  HMDX Jam Portable Wireless Bluetooth Speaker – music anywhere you go! It connects through bluetooth, has great speaker quality and perfect for any outdoor activity where music is so necessary but an outlet is not accessible. It's compact, user friendly, and comes in a vast variety of colors.
Take care of your beauty and skincare needs – SPF, SPF, SPF
10. Sunology SPF 50 – A complete no nonsense sunscreen with broad Spectrum UVA/UVB protection, that is water resistant and contains no chemicals (and yes, it still works). Probably the best natural based sunscreen I've used yet!
11. Aveeno Continuous Protection Sunblock Lotion SPF 30 – I alternate between the SPF 30 and 55 version of this sunblock. It's great for the beach since it's water-resistant and packed with antioxidants, oil-free, and goes on easy without being greasy.
12. Clinique Even Better Dark Spot Correction Hand Cream SPF 15 – My hands are aging!! And I need to step up my hand cream game and opt for one with SPF. It's also been effective with minimizing the appearance of dark spots (which I have from curling iron burns mixed with the sun exposure). It goes on so smooth and has a very pretty soft scent. It's a little greasy after initial application but that feeling fades and at least it doesn't give off rub off on clothing or anything else you come in contact with.
13. Couture Color Pequi Oil Treatment – for anyone with frizzy hair that gets dry (especially in humid weather), this is a great oil to apply. I like it when for when I get out of the shower to heat protect against my hair dryer and flat iron as well as when my hair dries. If I apply to dry hair I apply it a few inches from the root (to my ends) and my hair just soaks it up. It helps protect my hair color as well as hydrate it without being too heavy. In fact it's safe to reapply every few hours or so as needed. I'm also a fan that it's paraben and sulfate-free.
14. Daisy Marc Jacobs Petite Flowers on the go! – This set is so cute I can barely stand it. It includes both the original Daisy EDT and Daisy Eau So Fresh EDT Spray middle of their respective plastic daisy packaging. From the fragrance to the packaging this floral duo just makes me happy. Plus what better way to finish off a look then with a fresh floral scent?
Disclaimer: Most of these items were given to Pretty Connected by a company representative or in a gift bag. Pretty Connected was under no obligation to write this post and is not receiving any financial contribution to do so.