By now you're all aware of how bad the sun is for your skin, right??? All of those UVA and UVB rays reflecting from the sun and causing premature aging, wrinkles and more severely sun cancer. So with the sun in full bloom, we're hosting a giveaway compliments from our friends at Aveeno filled with everything needed to help keep your entire body protected from UV rays!
WIN The Aveeno Ultimate Sun Protection Set ($150 value):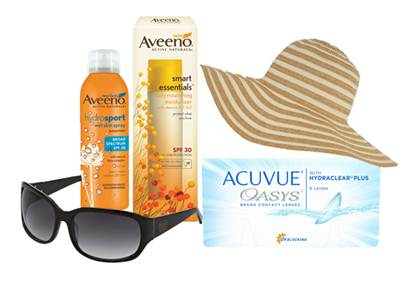 This set includes:
1. Wide-Brimmed Sun Hat – to keep the hot rays from reaching your face from above.
2. AVEENO® HYDROSPORT™ Sunscreen SPF 30 and AVEENO® Smart Essentials Daily Nourishing Moisturizer SPF 30 – Whether you are on the beach or running errands around town, a daily sunscreen is a must.
3. Sunglasses with 100% UV Protection – Nothing beats a pair of stylish "sunnies" to help shield your peepers from ultraviolet light — not to mention prevent you from squinting which can cause crows feet… (not on my watch.)
4. One month of ACUVUE® OASYS® Brand Contact Lenses – While most contact lenses don't offer any UV protection, ACUVUE® OASYS® Brand Contact Lenses offer the highest level of UV blocking available — blocking more than 96% of UVA rays and 99% of UVB rays that reach the lens. NOTE: Exam and fitting fees not included. Winner must present current, valid prescription for ACUVUE® Brand Contact Lenses to redeem.
TO ENTER: leave a comment on why you'd like to win or how you protect yourself from the sun.
Extra entries if you…
**Follow us on Twitter, @PrettyConnected and tweet us your response using the hashtag #Aveeno.
**"Like us at Facebook.com/PrettyConnected and leave us a comment referencing this giveaway.
Entries will be accepted until June 15rd at 8pm EST. US residents only. All federal, state and local laws apply.
Not convinced the sun is really that harmful? Well, besides the loads of research proving it and experts vouching for the negative effects of sun exposure, I was particularly taken back by this article I read on BoingBoing.net, which boils down to this picture…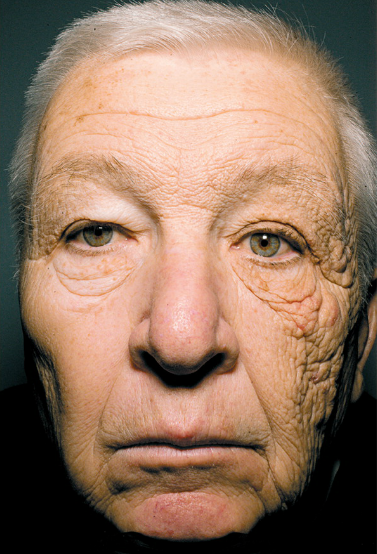 This gentleman had been driving a delivery truck for 28 years where the left side of his face was directly exposed to the sun from the window. Besides a whole lot of interesting mutations that transpired to his face (you should read the whole article), for purposes of this post, I think it's quite evident the negative effects of sun exposure to your skin.
And now that I have your attention, if you're interested in learning more, Aveeno has provided us with an advanced listen of the UV Protection podcast of Healthy Vision™ with Dr. Val Jones before the official launch on June 12th. The podcast features Dr. Jeanine Downie and Dr. Stephen Cohen who join host Dr. Val to talk about the importance of protecting the entire body from the sun's damaging rays. The podcast covers:
The danger of UV for the skin and eyes
The triad of protection
Easy steps the whole family can take to protect their eyes and skin 365 days a year
How often to see a dermatologist for a total skin check and an eye care professional for an eye exam
You can tune into the podcast here: www.blogtalkradio.com/healthyvision. Enjoy!
WinPrizesOnline: Sweepstakes and Instant Win
Disclaimer: Sponsored giveaway. Pretty Connected was under no obligation to write this review.