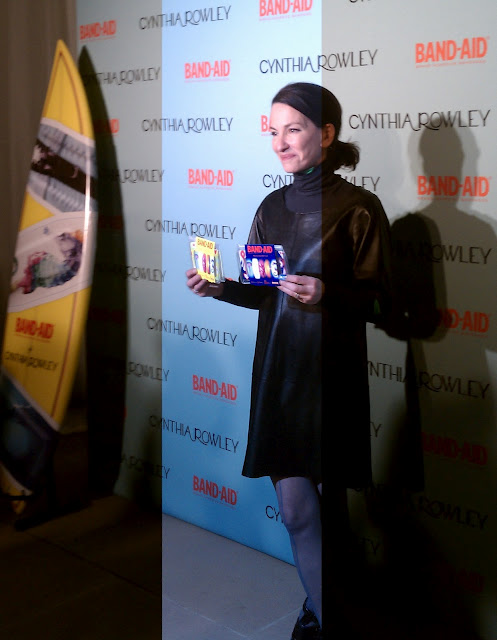 I am such a fan of Cynthia Rowley from her apparel to Band-Aid collaboration and now her as a person! Minutes before her Fall 2012 show Cynthia Rowley took a break from putting the finishing touches on her show to talk to a few special bloggers *inhale* myself included. And instead of being stressed and in need of a sedative, she was cool and collected and just excited. She talked about the music and the intricate hair style designed for the models and how all the pieces went together support the theme of craftsmanship which was the inspiration for her show.
I've never felt so welcome or had as much fun backstage at a show. Generally, I'm in and out, just there to interview the beauty sponsors, however this was no ordinary backstage…

As some of you know after going nut-so over the Cynthia Rowley BAND-AID's they asked me to be a blogger ambassador last year for the collection! At that time they we're limited edition, however due to the enormous success and popularity, the duo are collaborating again! And as part of the celebration, BAND-AID hosted a backstage lounge at the show and gave guests a sneak peek at the new collaboration, the BAND-AID Brand Beach Sport Kit. The kit ($10) which will launch May 2012 includes 20 newly designed bandages, 4 NEOSPORIN single use packets, and resealable plastic pouch to hold your beach essentials (and big enough to hold and protect your cell phone!).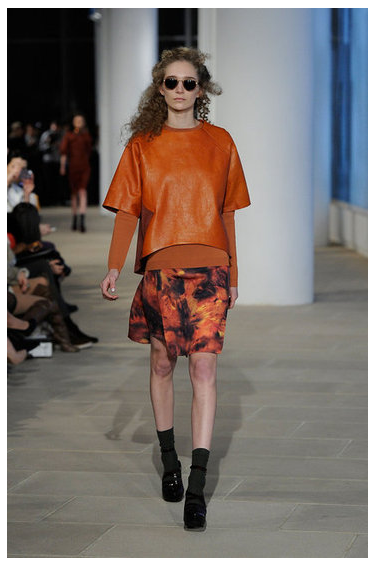 So I hung out, made friends (that where I met my new bff Jenni from ISpyDIY!), and was all around blown away by the texture and craftsmanship that went into the hair created by amika. In contrast, MAKE UP FOR EVER did a nude and natural makeup application to balance the look.
GET THE LOOK! Here's how to recreate the show's  hair and makeup:
Hair Lead Stylist: Duffy for amika
Hair Look: Autumnal Texture
Inspiration: "Cynthia and I wanted the hair to play with texture for the hair look. The clothes this season are so structured we wanted to contrast that with the hair. The idea of this look was for it to be free flowing; there is no beginning and no end." – Duffy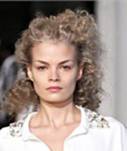 How Duffy created the hair look:
1. Mouse was applied to the hair and it was rough dryed with the amika NRG Professional Hair Dryer
2. A figure-eight technique was used (around the crown of the head) which was created by  pinning the hair around bobby pins
3. The figure-eight shape was sealed in with heat from the amika x Cynthia Rowley styler
4. Tight curls were created using a hot rod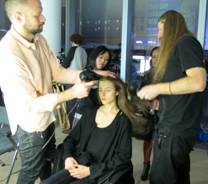 5. The hair was  then dragged out and brushed to create volume
6. Pieces were pulled and pinned
Since each girl's hair was different Duffy selected the final style based on each individual girl, their personality and the clothes they looks they were modeling.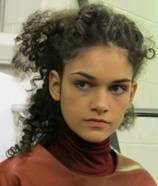 Makeup Lead Stylist: MAKE UP FOR EVER ALLIANCE artist, Lottie
Makeup Look/Inspiration: The look was inspired by the women of the 40s – effortlessly natural, empowered, and clean. The skin had a dewy finish with supple bare lips. To add a slightly masculine edge, Lottie groomed the brows creating a full and fluffy appearance.
How Lottie created the makeup look:
Complexion: Lottie first mixed MAKE UP FOR EVER HD Invisible Cover Foundation with MAKE UP FOR EVER Uplight #12. She applied this mixture all over, which gave the models a flawless dewy canvas. To finish the look and set the make up, she used MAKE UP FOR EVER HD Microfinish Powder.
Brows: Lottie brushed the brows upwards to create a fluffy appearance. For added fullness, she filled in individual hairs with MAKE UP FOR EVER Brow Pencil and MAKE UP FOR EVER Waterproof Eyebrow Corrector. The brows were then kept in place using MAKE UP FOR EVER Brow Seal.
Lips: The lips were supple and hydrated with MAKE UP FOR EVER Moisturizing Lip Balm.
{SMASH star, Megan Hilty Backstage at Cynthia Rowley}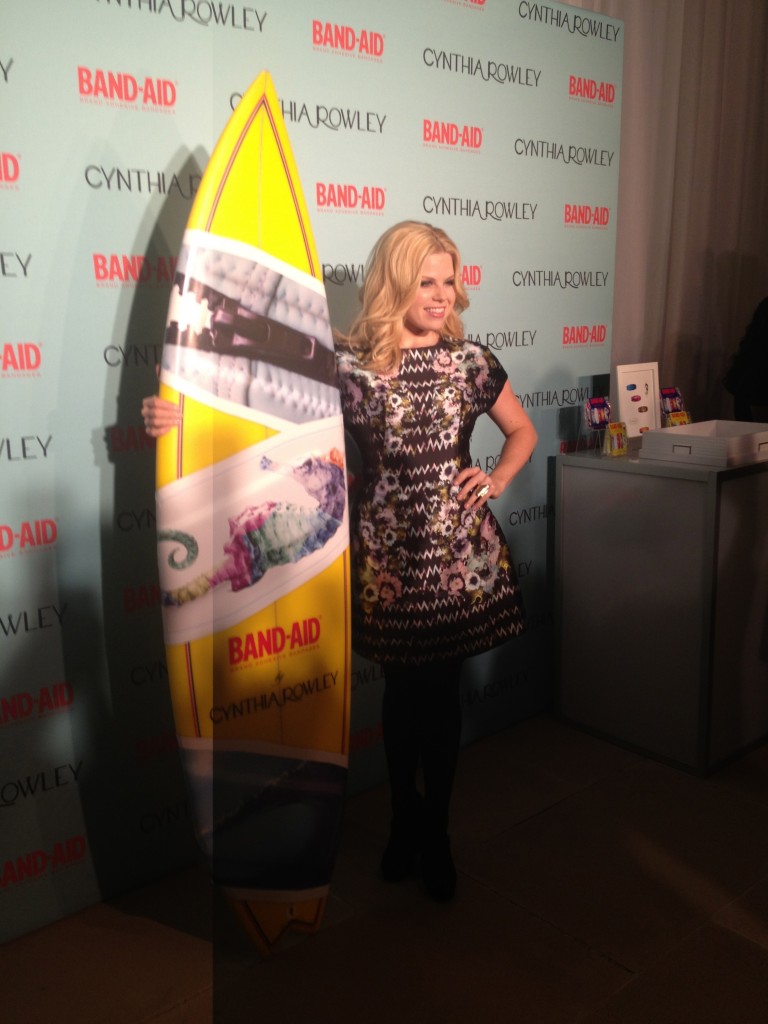 {Backstage with Jenni of ISpyDIY}