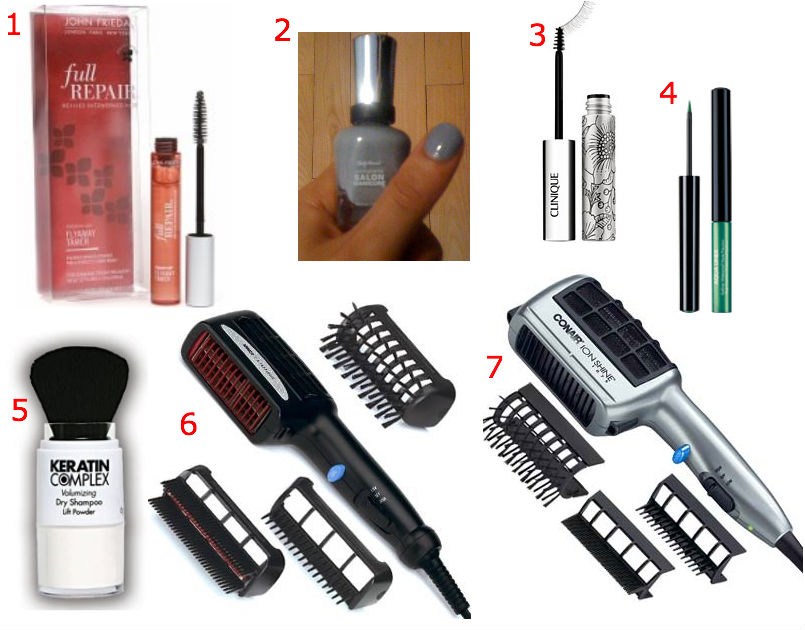 There have been some really great, innovative products to recently come onto the market. And I attribute their design and wands to making them so effective and user friendly. Here are some of my new favorites!
1. John Frieda Full Repair Touch-Up Flyaway Tamer ($9.99) – John Frieda's International Creative Consultant and celebrity stylist, Harry Josh presented this product at an event I attended and shared a styling tip–putting hairspray on a toothbrushes then brushing it back to tame flyaways. Although thanks to the new Touch-up Flyaway Tamer, there's a considerably easier and more convenient way to deal with flyaways (especially for us every-day folks). With similar packaging to a mascara, you just brush away the flyaways using the tamer wand and voila, they are slicked back! It's not sticky or heavy, easy to apply and lasts for a few hours. It's the perfect addition to my makeup case for any quick touch-ups I need throughout the day, especially in this heat!
2. Sally Hansen Complete Salon Manicure ($6.99) – Sally Hansen has been blowing it out of the water with all of their new and very innovative launches this year (hello Crackle and Salon Effects!) and I'm all about their Complete Salon Manicure collection. It's all 5 steps of a manicure (base coat, strengthener, growth treatment, color and top coat) in 1 bottle. And it works! I've been rocking their Eel Skin shade (from their Tracy Reese for Sally Hansen spring line) for the past few weeks and my nails are noticeably stronger! It has a thick wand, which makes it surprisingly easier to apply and I can cover my entire nail with two swipes. And I Iove the coverage –2 coats to a perfect manicure. All that's missing is the hand massage.
3. Clinique Bottom Lash Mascara ($10) – I admit I don't need this product. My lower lashes are actually quite long but there are plenty who do; including my 16-year old little sister, who wanted to try it. And who better to test how easy to use and how good this product is then a picky, opinionated beauty-obsessed teenager? I equipped her with a wand and she came out of the bathroom with long, perfectly separated lashes and in love with this product. The easy to use miniature brush (which is adorable) is designed to enhance lower lashes with a smear-proof formula. I did test out the product as well and actually like it for touch-ups on my top lashes in the corners where I have difficulty with thicker wands. So way to go Clinique for designing the first bottom lash mascara!
4. Make Up For Ever Aqua Liner ($23) – I recently ran into Dany Sanz (founder of MUFE) at The MakeUp Show and had to compliment her on this product. She replied with "it was a lot of work finding the right wand", giving me that look of it took moving mountains to create it. And that's what I love about her, she's a perfectionist and the product is phenomenal. 15 shades of high precision, high-pigment, waterproof liquid eyeliner that can easily be applied and doesn't move all day.
5. Keratin Complex Volumizing Dry Shampoo Lift Powder ($24) – I was introduced to this product by stylist, Ryan Darius Nickulas (whom I adore) and it's the first non-aerosol dry shampoo I've liked. I usually find power ones to be more messy and harder to control when it comes to how much product comes out. But apparently a lot of people are allergic to aerosol's so finally there's a worthy alternative. Packaged with a blush brush (and we all know how to use those), it's easy to apply and brush along the scalp. And it has a lemon scent that absorbs any odors and adds a little volume to the roots. Plus it's incredibly purse and travel friendly and includes a refill carton for extended use.
6. Conair Ifiniti Tourmaline Ceramic Styler Dryer ($36.99) and 7. Conair Ion Shine 1875-Watt Styler Silver ($33.99). I couldn't blow dry my hair straight without it being a big poofball until using these hairdryers. Both come with brush attachments that make it easy to straighten hair without any frizz! Just section wet hair into parts and brush down (or back) repeatedly in the same direction until hair is straight. They both work similarly except I prefer the comb size and design of the Ion Shine, but I tend to over-heat it with my thick never ending hair (so it needs a break to cool off before I can finish), where as I don't have that problem with the Infiniti. Although I should note, I have a lot of hair to handle and for most normal people either would make a great choice. They are great for touchups on dry hair or to smooth out any elastic dents or mishaps in the back of your head or hard to reach areas for an even blow-out.
Have you tried any great new products lately? Or any of these? Tell me what you think!
Disclaimer: A complimentary sample of these products were given to Pretty Connected by a company representative. Pretty Connected was under no obligation to write this review. See my About/Disclosure tab for more information.