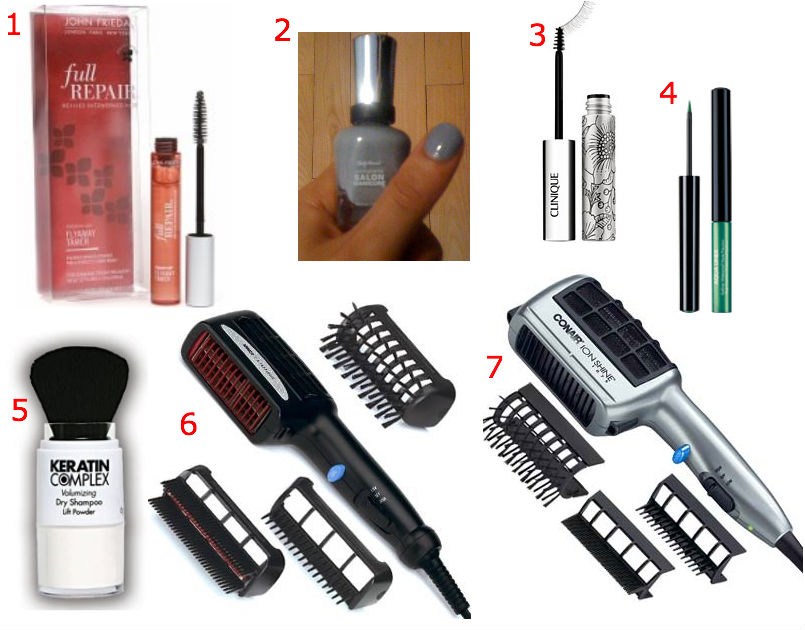 There have been some really great, innovative products to recently come onto the market. And I attribute their design and wands to making them so effective and user friendly. Here are some of my new favorites!
1. John Frieda Full Repair Touch-Up Flyaway Tamer ($9.99) – John Frieda's International Creative Consultant and celebrity stylist, Harry Josh presented this product at an event I attended and shared a styling tip–putting hairspray on a toothbrushes then brushing it back to tame flyaways. Although thanks to the new Touch-up Flyaway Tamer, there's a considerably easier and more convenient way to deal with flyaways (especially for us every-day folks). With similar packaging to a mascara, you just brush away the flyaways using the tamer wand and voila, they are slicked back! It's not sticky or heavy, easy to apply and lasts for a few hours. It's the perfect addition to my makeup case for any quick touch-ups I need throughout the day, especially in this heat!
2. Sally Hansen Complete Salon Manicure ($6.99) – Sally Hansen has been blowing it out of the water with all of their new and very innovative launches this year (hello Crackle and Salon Effects!) and I'm all about their Complete Salon Manicure collection. It's all 5 steps of a manicure (base coat, strengthener, growth treatment, color and top coat) in 1 bottle. And it works! I've been rocking their Eel Skin shade (from their Tracy Reese for Sally Hansen spring line) for the past few weeks and my nails are noticeably stronger! It has a thick wand, which makes it surprisingly easier to apply and I can cover my entire nail with two swipes. And I Iove the coverage –2 coats to a perfect manicure. All that's missing is the hand massage.
3. Clinique Bottom Lash Mascara ($10) – I admit I don't need this product. My lower lashes are actually quite long but there are plenty who do; including my 16-year old little sister, who wanted to try it. And who better to test how easy to use and how good this product is then a picky, opinionated beauty-obsessed teenager? I equipped her with a wand and she came out of the bathroom with long, perfectly separated lashes and