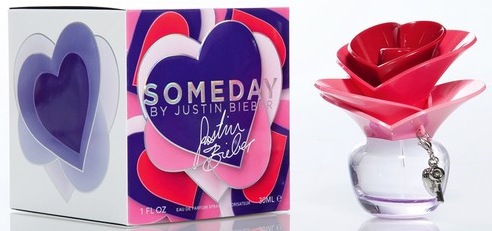 WWD reported this morning that Justin Bieber will be launching a, wait for it… women's prestige fragrance! And what does the 17 year old pop sensation know about lady scents? Does it matter? He knows a lot about the epidemic thats been sweeping the country (ahem "countries") — Bieber fever. He was quoted saying, "Let's be real, the way a girl smells is very important to a guy! I have such a deep connection with my fans, so creating a fragrance that I personally love is another way I can bring them closer to my world".
And we all know there are plenty of girls out there that want to be in his "world", so it will likely be a huge hit no matter what it smells like. The good news is (as if the excitement over a ladies Bieber fragrance wasn't enough), is the proceeds are earmarked for charity (the list of which is still in the works).
The fragrance, Someday by Justin Bieber, which definitely has a little Marc Jacobs Lola-like rose packaging to it will be offered as an eau de parfum spray in three sizes, 1 oz ($35), 1.7 oz ($45) and 3.4oz ($55). Additionally a 5 oz bottle of hair mist ($20) and body lotion ($25) are also available. The fragrance will be hit fine retailers including Macy's, Sephora, Nordstrom, Ulta, and Dillard's in June.