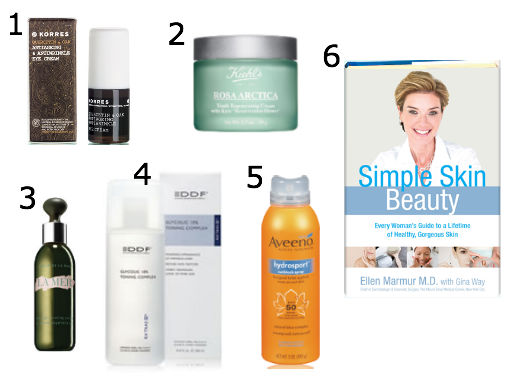 Woowzer! There are some great new skincare products on the market. I'm constantly amazed by all of the new technology and natural resources brands are discovering (and testing!) to keep our skin looking vibrant and youthful. Here's what I'm currently obsessing over!
1. KORRES Quercetin & Oak Antiageing Antiwrinkle Eye Cream – $42
An instant-lift eye cream that is clinically proven to fights wrinkles, increase elasticity, and reduce puffiness and dark circles. I feel much more awake after application and love the texture and feel –it soaks right into my skin! Plus it's rich in antioxidants and free of parabens and sulfates.
2. Kiehl's Rosa Arctica Youth Regenerating Cream – $60
This hydrating cream is formulated with a rare "Resurrection Flower" which re-awakens cellular activity and reduces lines and wrinkles while improving firmness. At first I didn't understand what all the hype was all about, the unusual texture (it's a little waxy) through me off. Then I got a tip to rub the product in between my finger prior to patting it only skin and now I'm loving the absorption and results.
3. La Mer The Regenerating Serum – $250
This anti-aging, lightweight elixir harnesses skins natural production of collagen, elastin and reduces the appearance of pores, lines and wrinkles. It smells divine, quickly absorbs onto skin and is not the least bit tacky. My skin positively glows after use. The only thing to dislike is the price. Le sigh!
4. DDF Glycolic 10% Toning Complex – $35
Formulated with one of the highest percentages of glycolic acid –which helps increase surface cellular turnover it is the ultimate toner to clean every pore on your face.  It diminishes the appearance of wrinkles and pores and retextures skin. Definitely one of the most unique and strongest toners I've ever used, but it doesn't dry out my skin. Make sure your skin is fully cleansed prior to applying for maximum benefit.
5. Aveeno Active Naturals Hydrosport Sunblock Spray, SPF 50 – $10.99
A water-repelling aerosol sunblock spray which provides SPF 50 protection. It offers long lasting UVA/UVB shielding and is lightweight, non-greasy and totally sweat-proof. It goes on matte and absorbs invisibly (and quickly) into skin. It's not messy and ultra convenient to just spray on.
6. Simple Skin Beauty by Ellen Marmur, MD, with Gina Way – $15
Written by the Chief of Dermatologic and Cosmetic Surgery at The Mount Sinai Medical Center, you better believe Elle Marmur, MD knows her stuff! At first glance the book seems very dense (where are the picture explanations?). However it's an amazing resource and surprisingly easy read. It offers quick tips and explanation on everything you could every wonder about your skin, products, ingredients and cosmetic surgery. I often refer back to the index for a refresher when I have a skincare question or want to verify something I read online.
Disclaimer: A complimentary sample of all of these products we're given to Pretty Connected by a company representative. Pretty Connected was under no obligation to write this review. See my About/Disclosure tab for more information.