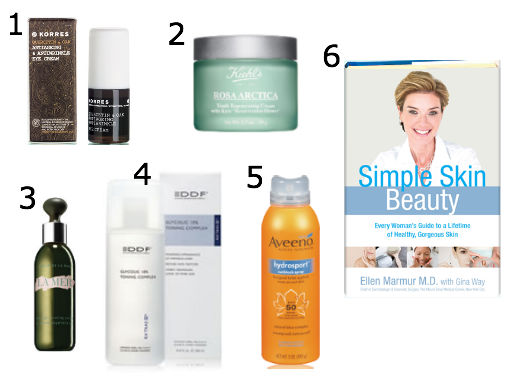 Woowzer! There are some great new skincare products on the market. I'm constantly amazed by all of the new technology and natural resources brands are discovering (and testing!) to keep our skin looking vibrant and youthful. Here's what I'm currently obsessing over!
1. KORRES Quercetin & Oak Antiageing Antiwrinkle Eye Cream – $42
An instant-lift eye cream that is clinically proven to fights wrinkles, increase elasticity, and reduce puffiness and dark circles. I feel much more awake after application and love the texture and feel –it soaks right into my skin! Plus it's rich in antioxidants and free of parabens and sulfates.
2. Kiehl's Rosa Arctica Youth Regenerating Cream – $60
This hydrating cream is formulated with a rare "Resurrection Flower" which re-awakens cellular activity and reduces lines and wrinkles while improving firmness. At first I didn't understand what all the hype was all about, the unusual texture (it's a little waxy) through me off. Then I got a tip to rub the product in between my finger prior to patting it only skin and now I'm loving the absorption and results.
3. La Mer The Regenerating Serum – $250
This anti-aging, lightweight elixir harnesses skins natural production of collagen, elastin and reduces the appearance of pores, lines and wrinkles. It smells divine, quickly absorbs onto skin and is not the least bit tacky. My skin