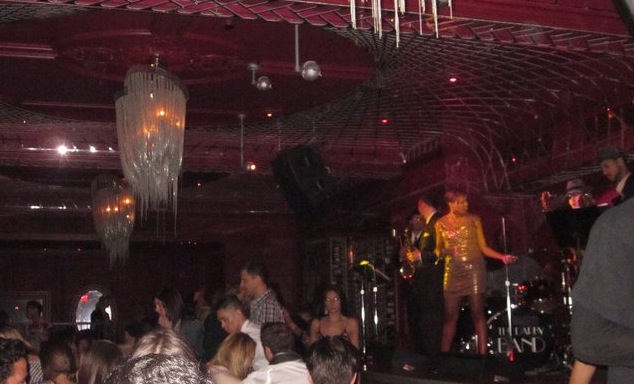 From the same owners as 1 OAK and Butter, Scott Sartiano and Richie Akiva opened the new supper club, The Darby. I have to say I didn't have high expectations for the restaurant. I read some review on Eater where a guy went there and was charged $2 extra for getting his drink on the rocks. When the website asked the GM for the explanation he said,
"Drinks with ice get a bigger pour…We charge more because we use more alcohol for a drink served with ice. We're not charging for the ice…Clearly, this person doesn't go out much and doesn't know how things work."
That basically translated to me as this is a totally douche restaurant that wants to be sceney and needs to get over itself. Needless to say it wasn't my first choice, but I had a friend in town from France and was not going to miss out on the welcome dinner.
Before even stepping foot in The Darby, I received an email confirmation for my party of 8 saying "On Friday and Saturday evenings, a $25 per person Entertainment Fee is added to all Guest checks."  Reading this only drilled my original suspicion in further.  Here's the thing, places like The Darby in NYC are not restaurants you go to nickel and dime your way through. So what's with all the bizarre added fee? Keep it classy and just raise the price of you're already overpriced drinks. Isn't that what everyone else does? If my table is paying $200 for entertainment during dinner, it better come in the form of an overly attractive stripper –no, not really, that would totally freak me out.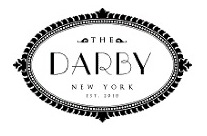 Walking in you're welcomed by a series of eclectic chandeliers with long, danty chains intertwined, booths along the wall, bar to your right, followed by the large stage –where the entertainment was already in full swing. I join my party and notice Rachel Roy walking in –every time I see her, I am still overwhelmed by how stunning she is. And no one pulls off a smoky eye like Rachel –she should do a tutorial.
My table got off to a rocky start, the waitress started taking our drink orders, 3 drinks in gets total A.D.D. and walks away. We we're all confused, there are 8 of us. Then a glass is shattered right behind me –not to worry, it's quickly picked up, except for the 1/8 of the glass that remains shattered underneath my feet. I then had to ask a random waiter if he could get that taken care of for me. Twice, I had to have my water refilled (a pet peeve of mine), they brought our entrees out at different times (an even bigger pet peeve of mine), and the waiter and waitress combo wasn't working out and ended up with a glass refilled with a different wine. I wonder if that's extra. Although the waitress did apologize –she wasn't able to hear me when I said I was all set. Probably because of the entertainment, which was excellent, but deafeningly loud. My table had to keep rotating to hear each other. It's definitely not a place to go for good conversation or if you're not prepared to yell all night in hopes of being heard. Fortunately the band took an hour brake midway through our appetizers so we had some time to talk.
On a more positive note the food was excellent. I should know, we ordered the whole menu. And take notes ladies, I checked out the bar and there were many very good-looking, and well-dressed men hanging out. Amar'e walked in and the restaurant was in a tizzy; high fives and pictures were all going down. Mr. New York Knicks was in the house and in a full on oversized varsity jacket with his namesake imprinted on it (a little over kill). I know you can do better Amar'e, Anna Wintour has already embraced you and I've heard you been referred to as somewhat of a fashion icon, so leave the uniform on the court for a night, you're at a nice restaurant on a Friday night, mix it up.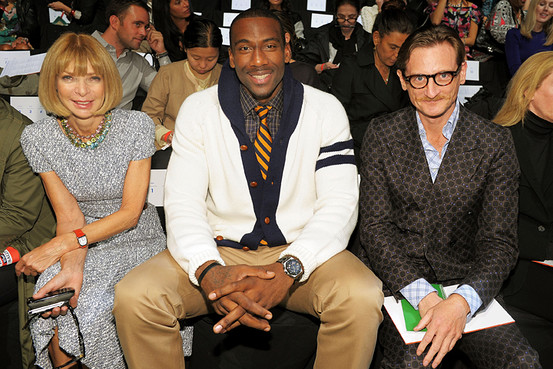 Owner, Scott Sartiano stopped by our table and I have to say, he seems like a nice guy so that gave Darby's some extra points. We we're invited downstairs –I'm not very hip, I didn't realize there was a downstairs. Amar'e and Rachael Roy we're BFFing it at the bar –I though maybe she was giving him style tips. I wasn't too far off. I googled it later and it turns out their about to partner on a clothing line. Please Rachael, don't bring back varsity jackets. I love you and in the words of Meat Loaf "I would do anything for love, but I won't do that".
The downstairs was very cool and a definite scene. There was the typical awkward model table where everyone's sitting stationary as if they're a print ad for Armani Exchange, mixed in with all the rest of us who are overly animated from one too many vodka soda –or maybe that was just me. Despite the service hiccups, I had a great night. Good wine, great food, and even better friends at no extra charge!