I always have mixed feelings about Valentine's Day. It's become so commercial that it's easy to get caught up in the fancy dinners and expensive gifts when really the holiday is all about being romantic and thoughtful. So get creative and make that special someone feel special! Here are some tips to finesse your way through Valentine's Day.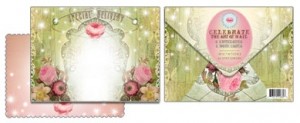 Write a Love Note: Hide it in his/her bag or mail it to their work! What better surprise then to find a love letter? Just skip the cheesy, generic card, where all you do is sign your name, and either make one or take the time to really pick out one that really resonates. I LOVE Papaya Envelope Sets ($12/pack of 6), they are my ultimate go to cards for special occasions.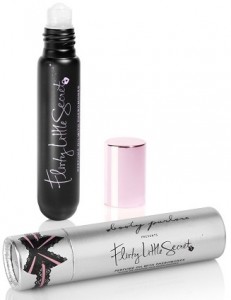 Flowers: Necessary or unnecessary cliché? It depends. Secretly, all girls hope when the FedEx guy walks through the office doors it's to deliver them flowers. It's always a thoughtful surprise that makes one feel special. Plus it results in major coworker-envy, which can be quite the ego boost. It's also a nice touch if you're picking up your date from their home. However, if you're meeting them at dinner or out on the town, it's a nuisance. I had a date bring me flowers once (it wasn't Valentine's Day) and the whole night through dinner and drinks I had to carry them around, and it was not enjoyable. I know that's a terrible thing to say, but it's true. If you're going to bring some, less is more! Go for an elegant, single, long-stem rose.
Smell Great, Feel Confident: Find that perfect cologne or perfume, for an extra dab of confidence. I'll be wearing Booty Parlor Flirty Little Secret ($22). It has a roller ball application and it's packaging conveniently fits in my makeup case for the perfect pick-me-up at any point in the day. And it's infused with pheromones so I will be sure to attract everything in site (in theory). You're probably thinking 'pheromones have a scent?' No, they don't, the scent is a blend of plum, raspberry, jasmine, cedar and sandlewood. It's delightful; feminine without being too sweet– I smell like a sugar-plum fairy! In the evening I may switch to Dolce & Gabbana The One Eau de Parfum ($62), it's very sensual and intense with notes of Bergamot, Manddarin, Lychee, Peach, Madonna Lily, Vanilla and Amber. Molta sexy!
Make a Plan: Put some thought into the evening, don't just wing it. Start with–to stay in? Or go out? If you go out, pick the place you first met, or has some significance to your relationship. Personally I opt for staying in, since I'm not a fan of big crowds, stressing over reservations and the stupid prix fixe menu all restaurants insist on. If you do, some advice:
Do Your Research: Cook something special, pick out a great bottle of wine or spend some time and create a signature cocktail. Pick up some desserts in advance and indulge. There are no calories on Valentine's Day.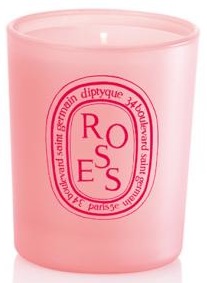 Set Up a Scavenger Hunt: Place little notes around the apartment, each with a clue to the next one, and have the final hint lead to a gift. Or make an excuse to leave the room when she or he is on the last clue, which points them to the room you're in and wait with a big ribbon around yourself. You're the best gift!
Create an Atmosphere: Transform your space! Move the furniture and make a picnic on the floor, scatter rose petals, make an original soundtrack for the evening… or at the very least light a candle. Try a Tocca Candle ($36/10.6oz) in Florence (it captures the essence of an old European garden rose known as Rosa centifolia) or choose from one of their other 25 scents, If you're looking for a smaller candles to line the bathroom tub, or stairs to your bedroom, try Diptyque Limited Edition Mini Pink Roses Candle ($32/2.4oz).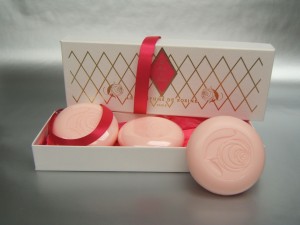 Draw a Bath: End the evening (or start it) with a relaxing bath. Now that you've lined the tub with candles, drop in a bath ball (try Sabon Bath Ball, $6) and lather up. If you're lady enjoys fine soaps, a tasteful gift is Les Parfums de Rosine Coffret set of 3 soap set ($47.50, available at Barneys New York). Elegantly wrapped in a vintage, old-Parisian inspired box, the fragrance is a rich blend of violet and rose. It's a gift you can open (and use) together.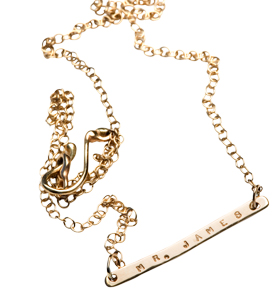 Back rubs: Some people are weird about back rubs– I love them. If it's a night in, grab some massage oil or cream and treat your significant other to relaxing massage. If your looking for a relaxing cream, try Earth Therapeutics Holistic Stress Management Kit ($19.99). Double the fun and make an appointment for a couples massage at a spa –If you need a recommendation, try Great Jones Spa, it's exceptional.
A Romantic Gift: My cousin turned me onto this website bittersweetsny.com and I was instantly enamored with the jewelry assortment. Considering they have a healthy assortment of love themed pieces, they still manage to be tasteful and simple. The Lil' ID Necklace ($150), gives you the option to have up to 12 letters, numbers, heart, or ampersand inscribed on a 16" necklace in either silver, vermeil, or 14K yellow gold.
Have fun!
Disclaimer: A complimentary sample of a Les Parfums de Rosine soap, Booty Parlor Flirty Little Secret and Earth Therapeutics Holistic Stress Management Kit were given to Pretty Connected by a company representative for consideration of a post. Pretty Connected was under no obligation to write this review.