Almost two months ago, I had the pleasure of getting an advanced introduction to the new, very affordable, amazing hair line Macadamia Natural Oil™, and I haven't stopped using it since. Now available, the brand launched with a five-piece collection including Macadamia Healing Oil Treatment, Macadamia Oil Infused Comb, Macadamia Rejuvenating Shampoo, Macadamia Nourishing Leave-In Cream, and Macadamia Deep Repair Masque.  I'm obsessed with it all!
Face and hair oils have really made their way into the spotlight over the past few years and where many we're once apprehensive to apply it to the face and scalp, it's now readily accepted with proven benefits.  We started with Olive Oil, then Coconut Oil, then the last years major buzz word, the beloved argen seed oil, and now our attention is going to the macadamia nut oil.
Why Macadamia Nut Oil?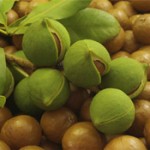 Macadamia nut oil works on all hair types to promote a healthy scalp and hair growth.  This lightweight, non-greasy oil absorbs quickly and effortlessly into the hair shaft and skin.  Rich in antioxidants, vitamins and essential fatty acids, including palmitoeic acid (an Omega-7 fatty acid), that is abundant in our body at birth but lose as we age.  When you think about the way your hair 'used to be', it's the palmitoeic acid that you are missing; it also helps prevent wrinkles and dryness.
Macadamia Natural Oil's line blends all the amazing properties of Macadamia Nut Oil and mixes it with Argen Seed Oil (aka 'liquid gold') to make it one of the most restorative hair products I have ever tried.  In the two months that I've used the line, my hair is noticeably healthier, softer, shinier, and longer.  The perks of having these two amazing ingredients combined is they improve hair strength, and revive hair that's been damaged from heat, and over-processing, helps repair follicles, improves elasticity and increase nourishment, extends the life of color treated hair and provides a UV protection against the sun.
Although recommended for all hair types, I would especially recommend it for color-treated, damaged, dry, and frizzy hair.  The amount it cuts down the puff even after the first application is incredible.  It also plays very well with other, I've mixed the line with various styling products and it's only enhanced their application.  This is especially true for sprays and creams I've used prior to straightening my hair.
Have I sold you yet?  Here's an introduction to the MACADAMIA NATURAL OIL™ line:
Macadamia Healing Oil Treatment – My must have out of the entire line.  For an oil, it is incredibly lightweight and non-greasy.  Works great on towel-dried hair to cut down on frizz and protect follicles from the hair dryer. It can also be applied to dry hair to add a nice sheen to make hair look healthy and shiny (but not greasy), as well as offer UV protection.  I used it every day when I was in Hawaii and it protected my hair exquisitely against the sun, making my locks never look dry, while leaving my color intact. It can also be mixed with hair dye to offer a move vivid and longer lasting application.
Price: $6/0.35 oz, $36/1.5 oz
Macadamia Oil Infused Comb – This unique comb is infused with the Macadamia Healing Treated Oil.  It's amazing! It looks like a regular comb but distributes a light amount of the oil evenly throughout your hair.  I love using this comb while straightening my hair to add some health and shine.
Price: $12
Macadamia Rejuvenating Shampoo – I really like to work this moisturizing shampoo into my scalp and hair to take advantage of all the rich elements the ingredients have to offer.  It leaves my hair silky, frizz-free, and noticeably healthier.
Price: $18/10 oz
Macadamia Nourishing Leave-In Cream – It takes some getting used to, to drop your rinse out conditioner and turn to a leave-in, but my hair got used to it rather quickly.  Apply the leave-in cream to damp hair, and style as usual.  Healthy, moisturized hair awaits you.
Price: $26/10 oz
Macadamia Deep Repair Masque – Honestly, my hair's been so healthy that I haven't really needed this product.  At first I used it regularly on my tips and every two weeks for an extra boost, and it worked great to make my hair super soft.   However, the line has done such a great job of restoring my hair that as the months have gone by I haven't really needed it.  If you're hair is severely damaged or dry, this is the masque for you.
Price: $28/8.5 oz, $46/16.9 oz
For more information visit www.macadamiahair.com
Affiliation: This product was given to me by a company representative.  I was under no obligation to write this review.