Almost two months ago, I had the pleasure of getting an advanced introduction to the new, very affordable, amazing hair line Macadamia Natural Oil™, and I haven't stopped using it since. Now available, the brand launched with a five-piece collection including Macadamia Healing Oil Treatment, Macadamia Oil Infused Comb, Macadamia Rejuvenating Shampoo, Macadamia Nourishing Leave-In Cream, and Macadamia Deep Repair Masque.  I'm obsessed with it all!
Face and hair oils have really made their way into the spotlight over the past few years and where many we're once apprehensive to apply it to the face and scalp, it's now readily accepted with proven benefits.  We started with Olive Oil, then Coconut Oil, then the last years major buzz word, the beloved argen seed oil, and now our attention is going to the macadamia nut oil.
Why Macadamia Nut Oil?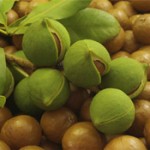 Macadamia nut oil works on all hair types to promote a healthy scalp and hair growth.  This lightweight, non-greasy oil absorbs quickly and effortlessly into the hair shaft and skin.  Rich in