Looking for a yummy treat without all the calories? Here are some of my favorites.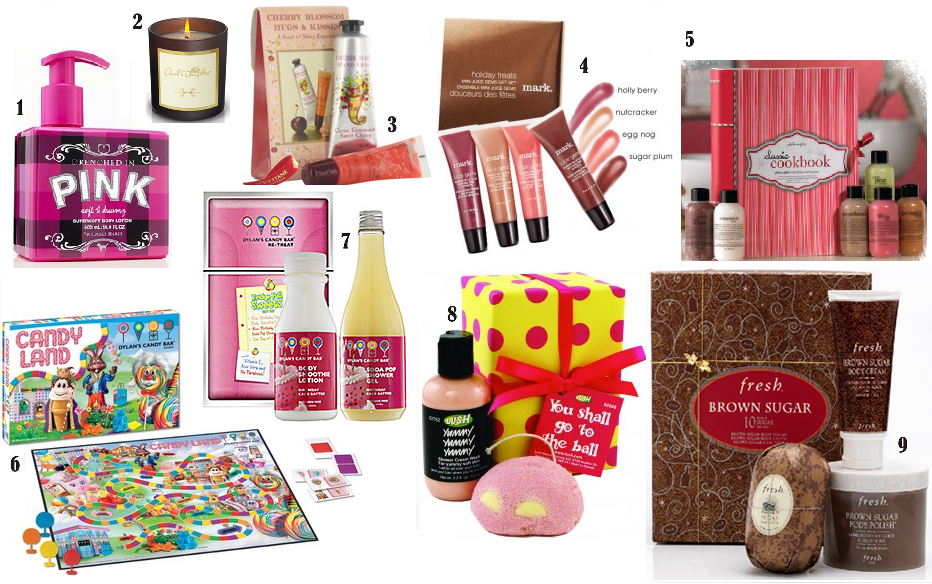 1. Soft & Dreamy Drenched in Pink Super Soft Body Lotion by Victoria's Secret
This light weight, limited edition lotion absorbed effortlessly into my skin with the delicious smell of meringue and vanilla whipped cream. The Pink line is my general go-to for the teenagers in my life, and it hasn't let me down yet.
$12/ 500mL/16.9 FL OZ.
For more information visit victoriassecret.com
2. Almond Cookie Candle by Carol's Daughter
Get into the spirit with the soft aromatic blend of almonds and marzipan. Hours after I blew out this soy candle, the scent lingered in my room, and the wax stayed soft enough to use a little on my dry patches and cuticles (like a salve to add moisture).
Burns for approximately 50 hours. $29/7.2 oz.
For more information visit carolsdaughter.com
3. Cherry Blossom Hugs & Kisses by L'Occitane
I love this little duo set — Ultra hydrating, sweet smelling cherry hand cream that's not overpowering with a lightly pigmented red cherry lip gloss that's not too sticky; all boxed up in a cute package.
$18/ Hand Cream 1 oz, Lip Gloss 0.5 oz.
For more information visit loccitane.com
4. Holiday Treats Mini Juice Gems Squeeze on Lip Gloss by Mark.
Four limited edition glosses in fun, high pigmented, thick gloss flavors including Holly Berry, Nutcracker, Eggnog, and Sugar Plum.
$12/ 0.2 fl oz each.
For more information vist meetmark.com
5. Classic Cookbook by Philosophy
It's insane how accurate these scents are to their dessert flavors. This set of 6 includes shampoo, shower gel & bubble baths in red velvet cake, cinnamon buns, spicy pear cobbler, pumpkin spice muffin, gingerbread and double rich hot cocoa. I don't use it in my hair, but it's a great all over shower wash that lathers really well and rather moisturizing! Makes a great set to give to the dessert nut in your life or to break it apart if certain scents remind you of different people.
$35/ 6-piece set, 2 oz. each.
For more information visit philosophy.com
6. Dylan's Candy Bar Edition of Candy Land
Candied out? Something great for the kids (or young at heart) is this fun twist on the great classic board game, Candy Land. Same rules, new faces. First one to the Gingerbread Mansion wins!
$25. For more information visit dylanscandybar.com
7. Fridge Full of Sweets by Dylan's Candy Bar
WARNING: For severe cake lovers only, who wish they could bathe it, and if so, proceed with caution because this Birthday Cake Batter Body Smoothie Lotion and Soda Pop Shower Gel set is not messing around and is very fragrant. Soda Pop is in reference to the shape of the packaging for the shower gel (there's no actual soda involved). The products compliment each other well.
$28/ Body Smoothie Lotion 16 oz, Soda Pop Shower Gel 10 oz.
For more information visit dylanscandybar.com
8. You Shall Go to the Ball Gift Set by Lush This set contains their Fairy Tail Sugar Scrub and Yummy Yummy Yummy Shower Gel. Both products are scented with real strawberries for a really fresh, natural fragrance that's not to overpowering. I love the way it feels on my skin, and a little goes a long way (I get about 3 uses out of their sugar scrub). And it comes already wrapped, and ready to go.
$15.95/ Fairy Tale 3.5 oz, Yummy Yummy Yummy 3.3 fl. oz
For more information visit lushusa.com
9. Brown Sugar Set by Fresh
Brown Sugar Body Polish, Brown Sugar Cream, and Brown Sugar Soap, are all included in this set. I will confess, I haven't yet used the soap, however the Body Polish and Cream are sensational. It's such a great value, that I recommend buying the set since you get the full product discounted plus the soap free! The brown sugar exfoliant from the body polish really awakens and hydrates my skin. Followed up by the Brown Sugar Cream that soaks right into my skin, and keeps it moisturized and soft all day. I love everything about this duo, and it smells fantastic – just a hint of fresh lemon mixed with the brown sugar.
$65 (a $94 value). Brown Sugar Body Polish 14.1 oz, Brown Sugar Body Cream 3.4 oz, Brown Sugar Soap 8.8 oz.
For more information visit fresh.com
Affiliation: Items #1, 2, 4, 7, 8 were given to me by a company representative. I was under no obligation to write this review.