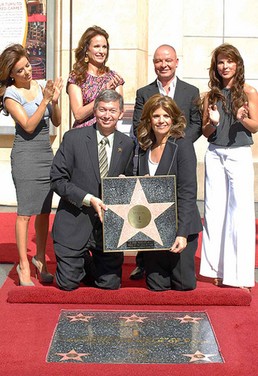 L'Oreal Paris received a very special birthday present this past week when the Hollywood Chambers of Commerce presented them with a Friend of the Hollywood Walk of Fame star.  Spokeswomen Eva Longoria Parker, Andie MacDowell, and Kate del Carsillo joined brand president Karen Fondu on Hollywood Boulevard to accept the award.
L'Oreal is giving the Walk of Fame a make over by helping to fund its restoration, which celebrates its 50th anniversary next year.
"Many acclaimed actors have delivered L'Oreal Paris' iconic phrase, 'Because You're Worth It'," said Karen T. Fondu, president of the L'Oreal Paris division of L'Oreal USA, Inc. "As an aspirational brand, L'Oreal Paris appreciates its close association with the entertainment industry, from our long-standing partnerships with our spokespeople to our annual presence at award shows. We're proud to show our continued support to the community by contributing to the preservation and restoration of Hollywood's historic Walk of Fame."
Happy Birthday L'Oreal Paris!  This is well deserved for such an innovative brand who has been bringing quality products to the masses for 100 years!