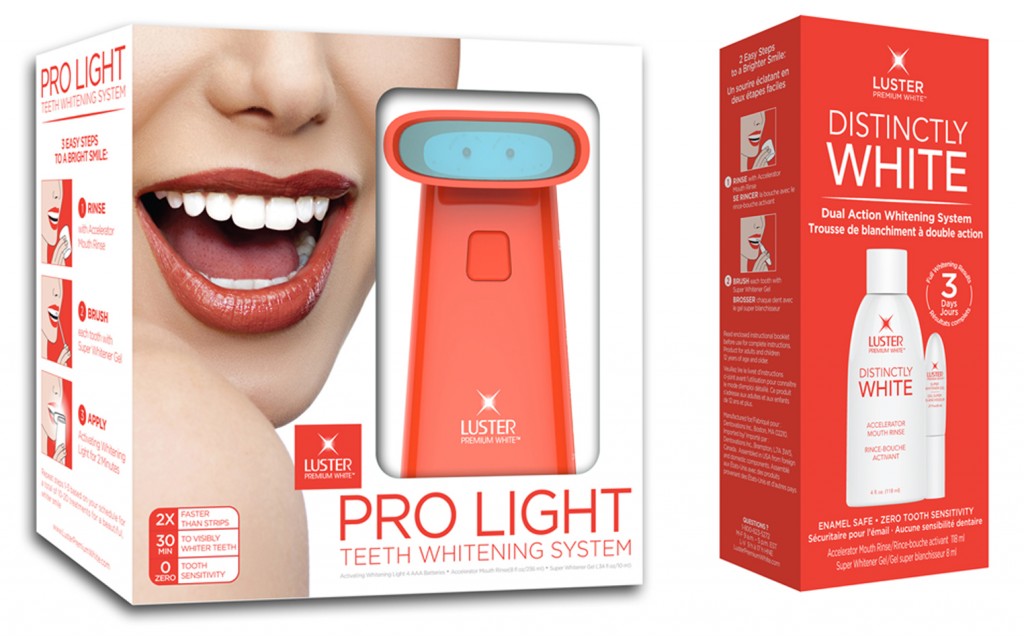 Until now I did not believe it was possible to achieve a whiter smile with this product grade without equally achieving incredibly sensitive teeth.  With LUSTER PRO LIGHT TEETH WHITENING SYSTEM I had quick results and was still able to drink everything from cold water to hot tea without sensitivity.  Developed by dentists, Pro Light whitens two-times faster then strips or trays and offers visibly whiter teeth in as little as 30 minutes; making this at-home whitening system one of the fastest whitening systems on the market. Super convenient, I followed the easy three-step process:
Step 1: Rinse with the Accelerator Mouth Rinse which gently cleanses and pretreats teeth to maximize whitening results.
Step 2: Brush on the Super Whitener Gel which lifts surface and deep stains with the super-oxygenating power of active dental peroxide.
Step 3: Apply the Activating Whitening Light for 2 minutes, a process which activates the photo-catalyst in the Super Whitener Gel for faster, more effective whitening.
Each Pro Light System comes equipped to offer 20 complete whitening treatments, so you can choose to do a whitening touch-up or a complete whitening makeover.  And, with each treatment lasting only 3 minutes, you can easily fit Pro Light into your busy schedule.  Whether you want to whiten all at once, or space your whitening over the course of a week, Pro Light lets you whiten on your time.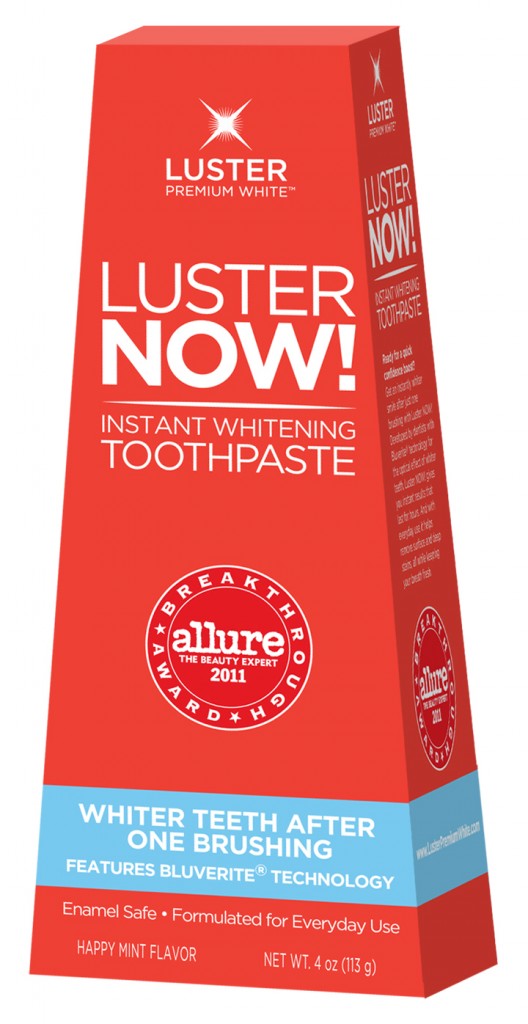 Also available is their LUSTER DISTINCTLY WHITE TEETH WHITENING SYSTEM.  (Note: The Pro Light makes the process faster and helps to intensify the whitening process, however if you have time and want to save some cash the Luster Distinctly White Whitening System is otherwise the same product.  It includes the Accelerator Mouth Rinse and Super Whitener Gel but just without the patented light-activating technology).
If you already like your smile but just want to make it pop a little more try the LUSTER NOW!  INSTANT WHITENING TOOTHPASTE!  
The brand's NOW! Instant Whitening Toothpaste and Mouthrinse also offer short-term results for anyone looking for an instant whitening boost.  The brand continues to innovate on new safe and effective whitening products, and has received countless awards for its efforts, including Allure's Beauty Breakthrough Award and the Real Simple Best Whitening Toothpaste Award.
All Available at: Wal-Mart, Kmart, Rite Aid, Kroger and online at LusterPremiumWhite.com