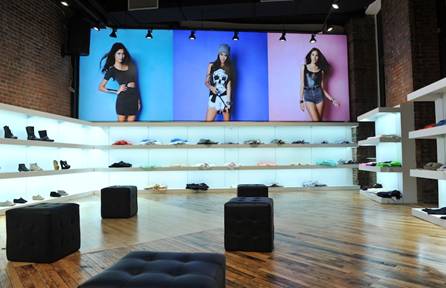 I am not sure when it started but if feels like all of a sudden Necessary Clothing stores are everywhere in downtown  Manhattan.  Whenever I walk by one, the window displays always tempt with their "on trend fashion," and obnoxiously hard to resist low prices that have me marked that if I go in, I'll likely end up with bags filled with clothes I don't necessarily need but they serve me a season or two are well worth the impulse. (I call it Forever 21 syndrome).
Since launching in 2011, Necessary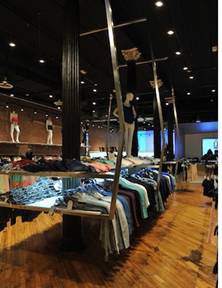 Clothing has skyrocketed in popularity (just ask their 22k fan-base Facebook). Last week, they celebrated the opening of their 6th retail location in NYC. Hosted by Betches Love This, guests partied it up with VitaFrute cocktails, a photo booths and temporary tattoos, while shopping to the beats of  DJ Kalkutta.  A graffiti artist from Klughaus was also on hand making personalized totes.
The new store, located at 261 + 263 Canal Street is 6500sq.ft with raw exposed brick walls, a back-lit shoe and accessories closet and landmark approved entrée doors.  A definite upgrade to some of their jam-packed-with-clothing locations.   They are also the first fashion retailer to open on Canal Street, lending to Mayor Bloomberg's continued efforts to clean up and commercialize the counterfeit strip.
Sure some styles are taken to extremes in ways that make you question, "What was I thinking buying this?"  However, it is a great place to get your basic items and those trend items that will likely be out next season and aren't worth department store prices. Plus I'm a sucker for their fun print leggings.
Check it out for yourself and learn more at necessaryclothing.com