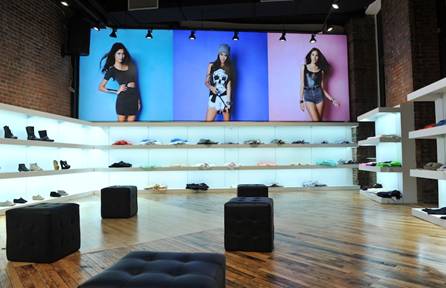 I am not sure when it started but if feels like all of a sudden Necessary Clothing stores are everywhere in downtown  Manhattan.  Whenever I walk by one, the window displays always tempt with their "on trend fashion," and obnoxiously hard to resist low prices that have me marked that if I go in, I'll likely end up with bags filled with clothes I don't necessarily need but they serve me a season or two are well worth the impulse. (I call it Forever 21 syndrome).
Since launching in 2011, Necessary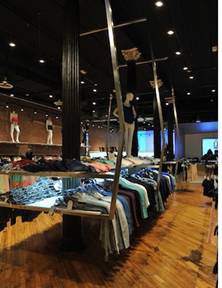 Clothing has skyrocketed in popularity (just ask their 22k fan-base Facebook). Last week, they celebrated the opening of their 6th retail location in NYC. Hosted by Betches Love This, guests partied it up with VitaFrute cocktails, a photo booths and temporary tattoos, while shopping to the beats of  DJ Kalkutta.  A graffiti artist from Klughaus was also on hand making personalized totes.
The new store, located at 261 + 263 Canal Street is 6500sq.ft with raw exposed brick walls, a back-lit shoe and accessories closet and landmark approved entrée doors.  A definite upgrade to some of their jam-packed-with-clothing locations.   They are also the first fashion retailer to open on Canal Street, lending to Mayor Bloomberg's continued efforts to