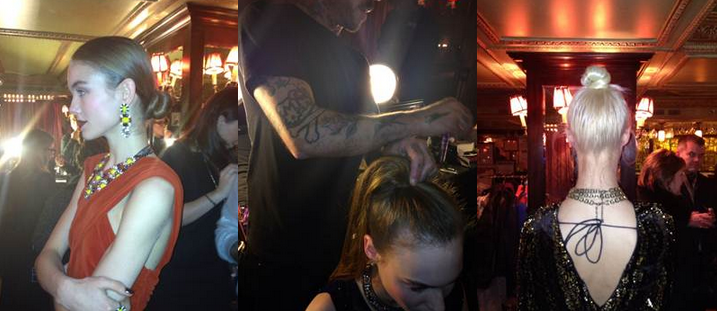 DANNIJO, which is founded by sister duo Danielle & Jodie Snyder, hosts a collection of eclectic and visually stunning jewelry hand-made in NY. Their Fall 2013 presentation, the jewelry collection was inspired by old Hollywood, in particular the key fashion icon Elizabeth Taylor. Hosted at the Jane Hotel — or rather that was the location. It was technically hosted by Rashida Jones and attracted the likes of Hilary Rhoda, Garance Dore and Coco Rocha! But I missed all that… I had to dash to another show but I did get to peek the collection and make it backstage to see one of my favorite makeup artists, Jenny Smith who lead the NARS Cosmetics team.
Smith describes the look as "romantic, it's soft, but has depth. The lip has a darkness to it without feeling goth. "She's basically a modern Renaissance girl. We focused on the skin. Made it really radiant and beautiful — almost like a no make up-makeup. Really fresh and then a dark lift. All of the models have a different lip based on what they are wearing and to fit their personality.
Here's a list of the products used:
FACE: Radiant Creamy Concealer (New for Spring 2013), Pure Radiant Tinted Moisturizer Broad Spectrum SPF30, Light Reflecting Setting Powder – Loose, Gaiety Blush, and Optimal Brightening Concentrate
EYES: Pear Concealer (New for Spring 2013), Bellissima Duo Eyeshadow and Seduction Blush
BROWS: Blondie / Bali Single Eyeshadow
LIPS: Pear Concealer, Mambo Eyeliner Pencil (used as lip liner)
On brunette models:Black Moon Eyeliner Pencil (used as lip liner) and Volga Pure Matte Lipstick
On blonde models: Dolce Vita Velvet Matte Lip Pencil and Dragon Girl Velvet Matte Lip Pencil
The inspiration for the hair was very chic and minimalist to pop against the Victorian themed elegant dresses. Lead stylist Johnny Stuntz for LUXHAIR used WOW's Pony Fall Extension to create a tight high and low bun depending on the model. This is one very doable look that translates off the runway.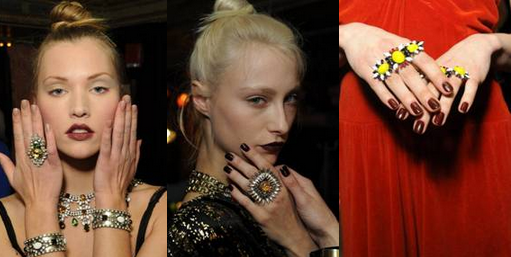 How to recreate the look:
1.      Start off with a mid-rise ponytail securing tightly with a clear invisible hair-tie.
2.      Johnny Stuntz then used the LUXHAIR WOW Pony Fall Extension (color matching each model's natural hair color) and pinned the hair piece to the rest of the hair blending the piece to seamlessly intertwine with the natural hair
3.      Johnny then wrapped the ponytail into a tightly coiled bun, creating a modern look for the models
4.      After securing the bun, Johnny back combed the hair on the sides of the head to add texture and create the appearance of loose strands
5.      To complete the look, Johnny followed up with L'Oréal Paris Elnett Strong-Hold hairspray to keep the hair in place.
As for the nails, the looks were created by Katie Hughes, butter LONDON Global Colour Ambassador. Katie created 3 nail looks for the presentation;  Look 1: Yummy Mummy, Look 2: La Moss, and Look 3: La Moss with a layer of Saucy Jack on top.
For images from the show visit racked.com.