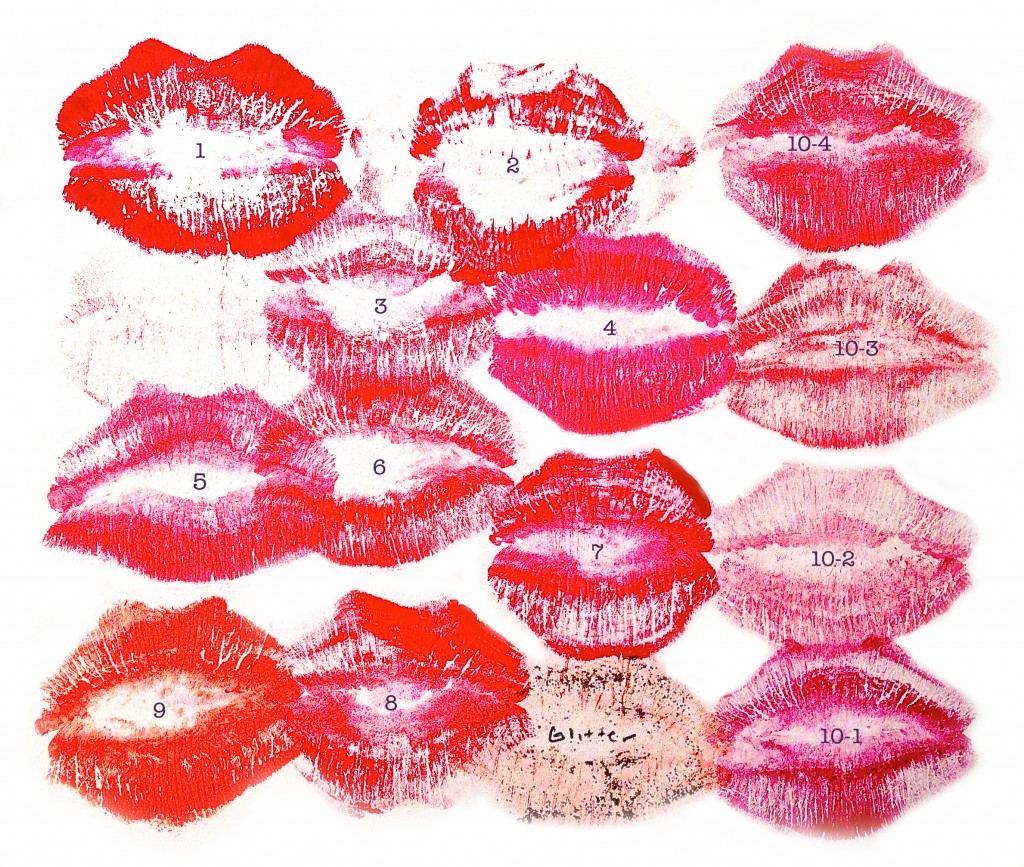 My obsession with red lips started last year, and since then my love of the color has only grown stronger.  As I told Beauty High in a recent feature, "a good red lipstick fixes everything – especially if there's a camera involved."
Back in the day my red options were limited — Dragon Girl from Nars was about the only shade I could find that worked for me. Now with so many different types and shade ranges (from orange-red to deep reds to bright reds to pinkish reds…)., I've been experimenting like a mad woman.  (I've became a little obsessed!)  Having tried what feels like every red lip color I could get my hands on in the past 4 months, I have narrowed it down to 10 favorites!
Top 10 (from the deepest red to the brightest, numbers connect to above lip numbers above as well)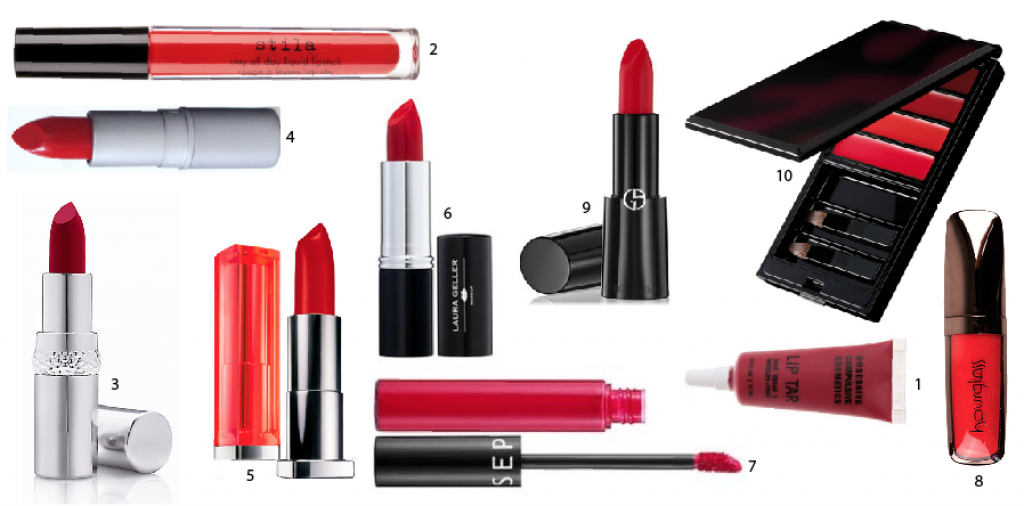 1. Obsessive Compulsive Cosmetics – LIP TAR – NSFW:  Super dark but sure to turn heads.   This goes on glossy and dries to a satin finish. with This product has an insane amount of pigments so when applying use a lip brush and apply a small (very small) amount to lips.  Can put on lightly for a softer effect.  Make sure to bring with you because you will need to re-apply throughout the evening.  ***Another reason to love this product… 100% Vegan and cruelty-free.
2. Stila Stay all day liquid lipstick – Beso 10 – Perfect happy red.  Easy to apply, goes on glossy and dries matte.  Stays put and leaves a nice stain that lingers long after your cocktail is finished.
3. La Prairie – Rouge Clair – A little pricey ($55) but this red has a tight formula that helps it to stay put and even has a slight sheen.  Apply once after a few drinks or dinning.
4. Lipstick Queen – Soho – To me this shade is very similar to the La Prairie – Rouge Clair but has a very different feel and an added glossiness.  Looks great on but this one you will need to retouch throughout the night it does not stay put for long — especially if glassware is involved.
5. Maybelline – On Fire Red 895 – This hot vibrant red just came out this last month and is a steal at $7.49!  It is formulated with true color pigments which surround a special mineral that sits on top of the lips for full, opaque coverage and true-to-the-tube color.  Another bonus about this is it is  formulated with honey nectar which hydrates your lips.
6. Laura Geller in On Stage –  Lush, creamy formula that glides on easily with a nice smoothing finish.  Whats also great about this is it is made with ultra-moisturizing hyaluronic acid and blended with tiny treatment spheres filled with lip-plumping folic acid which gives a little extra plump to your pout.
7. Sephora – Collection Cream Lip Stain 03 Strawberry – It's a very pretty strawberry pinkish-red that goes on glossy and dries matte.  Great as a base to your gloss or lipstick as it will stays put so you can rest asure your lips will be stained all night.
8.  Hourglass Opaque Rouge Liquid Lipstick in shade Raven – Goes on like a gloss and dries fairly matte.  More of an orange red.  Great for slightly darker skin tones or for me I like to layer this one over a deeper red to add some punch.   When I say this one stays put I REALLY  mean it.  This lasted thru breakfast, iced coffee, a workout, and even a shower.  True story.  If your lips tend to be dry (especially in these winter months) apply a lip balm first, let it dry completely and then apply the color.
9.  Armani – 401 – This color is hard to not like.  It came out in 2009 and is still killing it in 2013.  (You may have seen Rhianna rocking)   It has a perfect orange pop to it which makes it more youthful and playful then some of the darker above reds.  It is $30 but it is a long wearing lipstick formula that stays put for a good 5 – 6 hours.  It doesn't always make it thru a meal but will always stick around thru cocktails.   I also love the magnetic snap in place top.
10. Serge Lutens – Perfect Red Palette – (available at Barneys) – Since lately red has been an everyday affaire for me, the past few weeks this has been all I bring out with me.   I almost passed out when I saw the price ($160) but if money ain't a thing or you are ready to invest – this is a marvelous palette of colors worth every penny.  Four different shades that are beautiful alone or layered together.  It goes on smooth with the lip brush (included) and has a satin finish.  For day time I just apply a light coat of one shade or a blend of a few.  However at night I start with a lip color that leaves a stain.  Then I pat any excess off.  I apply the rest of my make up and then right before I leave I layer one or blend a few different shades on top.   This is a great option if you have a hard time committing to just one color or simply like to switch things up but stuck on red.
 Disclaimer: A complimentary sample of most of these products we're given to Pretty Connected by a company representative. Pretty Connected/Lara was under no obligation to write this review and is not receiving any monetary contribution in doing so.