Well, more like 10% blond. With it being a new year I was ready for a change. And what better time to debut a new look then at a party! Last week, I was honored by NMRKT and Mondrian Soho, for their blogger of the month party (and had the opportunity to invite 150 readers and friends to celebrate my site). With a room filled with PR peeps, beauty experts, and my fellow bloggers, I needed to bring my A-game — and it's no secret having your hair look great is 50% of the battle.
Known for their infamous Dry-Cut, Hair Color services, and Revitalizing Hair Treatments, I visited Eiji Salon for a private consultation with their color director, Michael Murphy and of course to try out this dry-cut technique. When visiting a salon for the first time, I do not have what I call the housekeeper effect. Like when people clean their homes before a professional comes in to clean it (why do people do that?) — same thing only with my hair — it's not kept or styled. It's not even washed (which is actually better when getting your hair colored). The only embarrassing part is when I'm asked, "is this usually how you style your hair?".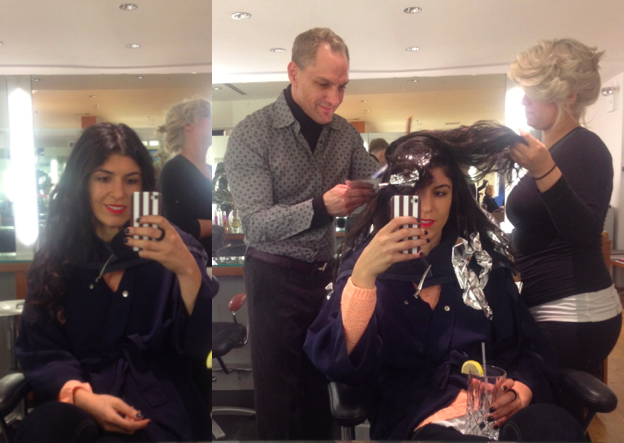 Having basically black hair, I've always been limited to hair color options — especially since I value it's health and am not found of anything that requires regular upkeep. (Or at least until I go grey.) I loved Michael from the start. We discussed options as well as what I wanted — again, nothing that required maintenance or my roots — something along the lines of an ombre, that would look good during the grow-out stages and didn't require touch-ups. We chatted for a while and asked if I would be open to a custom look. He is the master, so I agreed to be surprised! Taking into full consideration my hair type and that I like to wear my hair both curly and straight, he gave me this beautiful mix of highlights, streaks and an ombre that really opened my face.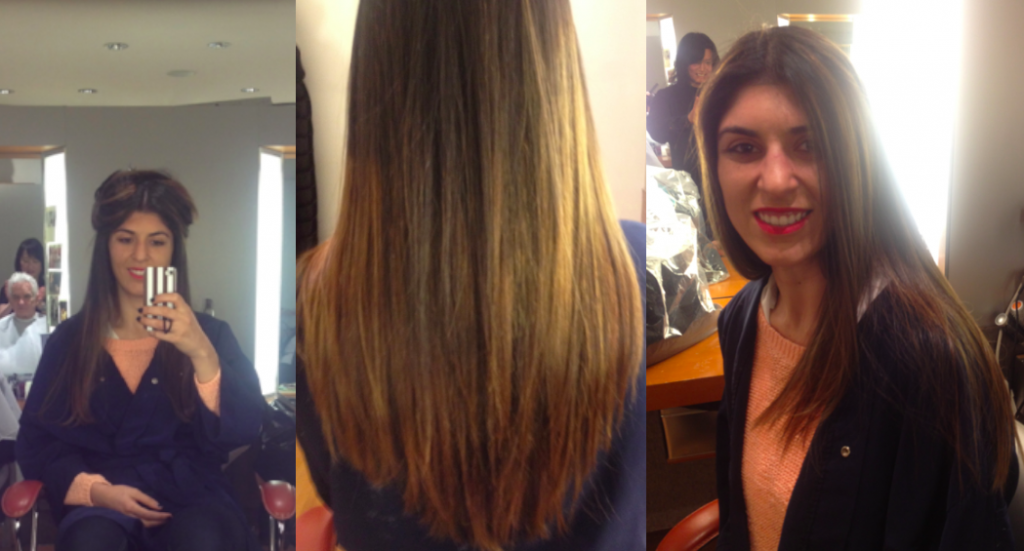 Eiji Salon is home of the "Dry-Cut" technique that was developed by the legendary style-guru John Sahag. (Salon owner Eiji Yamane studied under Sahag and quickly mastered and re-defined the technique which is now offered by him and his staff). How it works is after your hair is washed and dry, the stylist flat irons your hair stick straight and then cuts it. It has a reputation of offering a more precise, perfect cut so I was excited to have it performed by one of their top stylists, Hugh. His precision and technique was so incredible to watch. It took well over an hour with him checking and cutting what felt like every strand to perfection. At the end of my visit my hair was transformed and so soft! The cut lasted me 4 days (I added some dry shampoo by day 2) and it's so unbelievably healthy.
The salon is so tranquil and open, something I appreciate from an upscale NYC salon since I hate when the music is so loud or it's so chaotic I can't have a conversation with my stylist. The contemporary furnishing alongside ancient Japanese artifacts infusing together to create a relaxing environment that's both welcoming and comfortable.
Eiji Salon, 601 Madison Ave  New York, NY 10022 Learn more at eiji-newyork.com
Disclaimer: A complimentary service was given for review consideration. Pretty Connected was under no obligation to write this review