Known as the go-to source to help you find and book the right spa, resort, massage studios, salon, fitness and other wellness destinations, SpaFinder wants to help you #GiftWell. As in ending the buying and receiving of horrible, awkward or just plain embarrassing presents. And guess who gets to be in the campaign sharing their most annoying gift? (Hint, hint.)
{Outfit: Alice + Olivia jacket, iSantuary necklace. Hair/Makeup: blowout by Drybar, Sephora Brand Color Lip Blast in Royal Rasberry, Maybelline Colossal Mascara, Rimmel London Special Eyes Precision Eye Liner Pencil, bareMinerals Stroke of Light Eye Brightener, Tarte  Maracuja Miracle Foundation SPF 15, Geurlain Terracotta Bronzing Powder.}
Lets face it; we all have a story. Mine is Big Mouth Billy Bass. He's that seemingly cute fish you mounts on your wall that sings Bobby McFerrin's, "Don't Worry, Be Happy" every time you hit the button. It's fun and humorous the for the first 50 times you hear it and then after that you want to throw it out the window. Or in my case, re-gift it!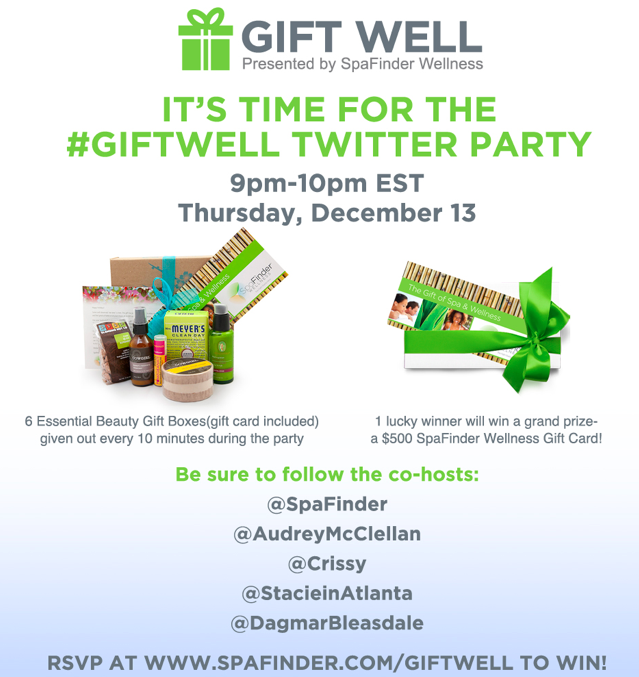 Throughout December, SpaFinder will be sharing a series of short videos featuring Internet personalities like myself highlighting our irreverent and sometimes hilarious humiliation in the world of gifting. What's the point? Don't be that guy/girl! If you don't have the perfect gift lined up consider the gift of wellness. The beholder of a SpaFinder gift card gets to choose the salon/spa/wellness center and service type so you're not the creeper giving out foot massage passes at the holiday party. (Although who doesn't love a good foot massage?). And to make finding the right spa that much easier, SpaFinder has a free mobile app that puts over 5,000 spas in the palm of your hand including treatments, directions, reviews and deals/last minute special offers.
To kick off the #GiftWell campaign, SpaFinder and MOMentumNation will be hosting a Twitter party this Thursday, Dec. 13th from 90pm – 10pm EST. You could win one of six Essential Beauty Gift Boxes prizes (one will be given out every 10 minutes during the party) or a grand prize of a $500 SpaFinder Wellness Gift Card. Everyone who RSVPs at SpaFinder.com/GiftWell and participates in the hour-long Twitter Party using the hashtag #GiftWell will be entered to win a prize.
The official hashtag is: #GiftWell
. Tweet along with co-hosts: @SpaFinder, @AudreyMcClellan, @Crissy, @StacieinAtlanta and @DagmaBleasdale.
Learn more at SpaFinder.com/GiftWell