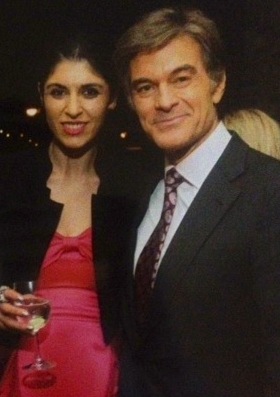 I admire Dr. Mehmet Oz. Or rather he (and anyone) who's able to think of life on the large scale, give back and not be limited or held back by time, schedule or any other 'I can't(s)' in life. Or as someone once told me when I thought I could not take on one more thing, "you're not thinking large enough." Dr. Oz does.
Aside from his ever so popular show, The Dr. Oz Show, he's also an active cardiac surgeon at New York-Presbyterian Hospital, publishing a new book, YOU(R) Teen:Losing Weight, writes a monthly column for Oprah's magazine, O, the chairman and founder of the non-profit organization, HealthCorps, and husband and father of four.
This month, I had the pleasure of meeting Dr. Oz for an evening hosted by HealthCorps, which if you're not familiar with, is his proactive health movement, focused on fighting the obesity and mental resilience crisis by getting American students and communities across the country to take charge of their health. I met several of their coordinators who work in classrooms, the lunchroom and run after-school clubs to help educate students on health, nutrition and fitness. The work they do for our communities is nothing short of inspiring.
This month, for the January issue of O, The Oprah Magazine, (now available on stands), Dr. Oz appears on the cover, with Oprah herself. Now available on stands! With New Years around the corner, if losing weight or being healthier makes your resolutions list, check out Dr. Oz's decade by decade guide to staying healthy at every age (diet and exercise tips) and how to winterproof your health to fight back against joint stiffness, heartburn, dry skin, and other seasonal misfortunes.
And because while we love reading about Dr. Oz and Oprah, what we love more is watching them (especially together), check out this video clip released by the magazine where the duo shares their new diet plans, health tips and resolutions for the new year: http://video.hearstmags.com