After a 2 year hiatus from Burning Man, I've decided  to forgo my resentment that since my last burn, tickets have skyrocketed to $400, there is a lottery system since it sells out (who know there was a capacity level for a massive desert?), and has become so yuppy and expensive that it's even made the pages of Town & Country, and go. However, as soon as I step foot on that playa, I'm exstinguishing all of these frustrations and committing to having the best time ever.
Ever since posting on my social channels that I've been spending this week Burning Man shopping, I've received messages from fans and friends alike asking me questions on what to bring and how it works.
So here it is, my recommended packing list: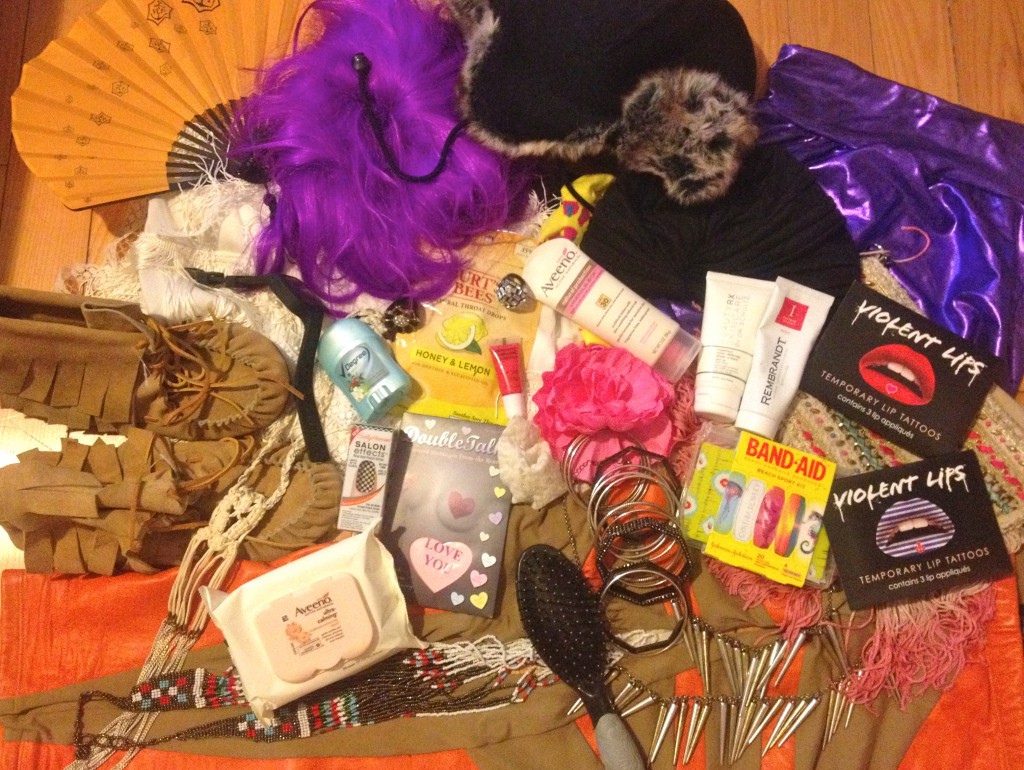 Toiletries:
Toilet paper roll/tissues
Face/hand/body wipes
Hand sanitizer
Vasaline or moisturizer (you will need this especially for your feet)
Toothpaste/toothbrush (travel mouthwash)
SPF – face moisturizer, spray SPF, body SPF – you can't get enough
Travel size shampoo and conditioner (and/or deep conditioner), elastics and hair brush
Body wash/Deodorant
Extras: nail polish, eye/lip makeup, glitter, glow in the dark makeup — go crazy!
Essentials:
Goggles, sunglasses and scarf (or something to cover your mouth) — if you're trapped in a sand storm, you want your eyes and mouth covered
Water Bottle (or two) – You have to stay hydrated on the playa
Hats/wigs – great as costumes but also covering your hair at all times will help preserve it from being one massive knot by the end of the trip. Unless you have electricity in your RV (if you have an RV), you do not want to expose wet hair to the dessert, it will make you miserable. It's better to not shower for the week and use wet wipes or do a quick body shower then get your hair wet and exposed to that sand.
Bike, helmet & lock – pimp out your bike with lights, ribbon, weird random objects, and have some fun with it! Without a bike though, you're missing out on a lot of the experience since walking in extreme hot to cold temperatures will get exhausting if you're looking to check out all the art sculptures, hit up some parties and music performances that will have you trekking all over the playa.
Hand fan if you get hot easy.
Head lamp/flashlight. When you need to use the rest room at 3am and it's dark, you'll be grateful for that headlamp! It's also key for walking around at night.
Batteries! Buy extras for any electronics you bring.
Clothing:
Warm and cold weather clothes – people think dessert and assume it's hot, but it gets cold at night!
If you're confident stripping down, get some pasties or duck tape to make your own.
Bathing suits (unless you're comfortable being naky in public). I'm a prude so…
Costumes: Tutus/tulle everything, big furry viking coats, moccasins, glitter, sparkles, angle wings, corsets, tiaras – if you've dreamed it, wear it, you won't feel self conscious. In fact, you'll feel boring in normal clothes. My outfits usually fall into the category of, futuristic silver/metallic themed, native american/country, biker chic, or tutus and retro/80s themed. To sum it up, go Mad Max. (go to google images
Accessories, bring tonds of fun jewelry and head pieces to enhance your costume.
Socks (and gloves) – long, short and everything in between, you want to keep your feet covered as much as possible and moisturized so they don't get dry. Thigh highs are also hot and great sand shields.
Long boots or ankle shoes, get cool platforms, or thigh-highs!
Hip over the shoulder bag (remember you'll be biking so this will make your life easier)
Extras:
Cough-drops (if your throat gets dry), Emergen-C or some type of Vitamin supplements and electrolytes. Stay healthy and keep your immune system up! You do not want to get sick while out there.
Basic first aid kit stuff (if you want to play it safe)
Sewing kit
Trash bags – everything is going to get dusty, it's nice to cover your suitcase in some plastic
Body stencils and body paint
Don't sweat it if you forget it, the playa is all about sharing and helping each other out!
Otherwise, bedding/tents depending on your sleeping arrangements, and enough food and water for the duration of your stay and you should be good to go!
If there's something you'd like to add to the list, leave a comment! Burningman.com also has tons of resources to help get you packed and ready for your trip.