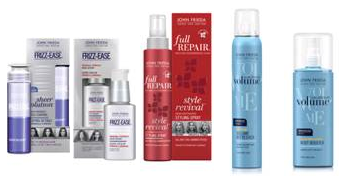 Do you struggle with trying to create a salon-caliber blowout at home? If so, John Frieda's International Creative Consultant, Harry Josh has some advice — beginning with taking your time. "A perfect blowout can last for days," says Harry. "Taking the time to do it correcting may be an extra ten minutes, but you'll have gorgeous hair at least 24 hours. It's not worth rushing it!"
Step One: Prep Your Hair
Take a good look at your hair type and identify its weakness: Frizz? Damage from heat styling? Lack of volume? When you get out of the shower, apply a pre-blowout product which targets that weakness. If you have frizzy hair, apply Frizz-Ease (Original Formula Hair Serum or the new Sheer Solution Lightweight Frizz Control, if you have fine hair) to soaking wet hair to combat frizz. If your hair is damaged and overworked, apply Full Repair Style Revival to protect hair from heat stylers and restore it to its natural, healthy condition. If you have fine, limp hair, apply Luxurious Volume Blow-Dry Lotion Root Booster to give hair extra lift at the roots.

Step Two: Just Add Heat
Tackle your hair one section at a time—sections that are one to one and a half inches thick are perfect. It will ensure that you're getting your hair truly dry, as well as creating the optimum amount of volume and sleekness. Make sure you're using the right brush – I like boar bristles. Brushes with metal bristles tend to get too hot and snag and break hair. Point the blowdryer at your roots, and follow your brush as you pull hair straight. Don't rush – you'll spend just as much time going back over your hair if you don't blow it out carefully from the start (and you'll be styling the same pieces over and over again – prime time for breakage).

Step Three: Finish Flawlessly
This is your chance to add the finishing touches to your perfect blowout. Add the appropriate finishers to give frizz and flyaways a final goodbye. If you need to pick up the volume and extend your blowout for another day, spray Luxurious Volume Anytime Volume Refresher at your roots.