Besides watching the Academy Awards every year to take note of every movie I need to add to my queue, I get equally excited (if not more so) for the red carpet coverage.  Then of course the next morning it's fun to read all of the buzz and reactions to show's fashion and beauty looks. Earlier, I posted some of my favorite looks, now hear from celebrity hairstylist and makeup artist Gocha Hawkins,  and owner of Gocha Salon on some of the big beauty and hair trends we saw from last night and how you can get the look.
Good Side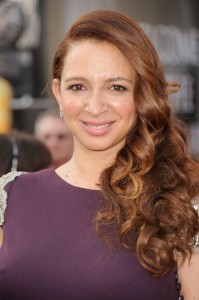 Stars like Busy Philipps, Maya Rudolph, and Stacy Keibler rocked the side-swept look. Gocha explains, how you can too: "The side-swept style was a big winner on the red carpet last night. With celebrities like Maya Rudolph stepping out with big, voluminous curls, many women will be coveting this look for prom and wedding season. This style works best for women with side parts, which provides a natural separation for hair. Create big, impactful waves with large hot rollers, and pull back the side with less thickness. Spritz with hairspray for hold. If you want to go with a more whimsical version of the look, you can secure with a hair pin that provides a little bit of a bling factor, and gives more of a guarantee that hair will stay in place."
Head Bangers
There was no shortage of bold bangs on last night's red carpet,as we saw from such celebrities as Rooney Mara, Rose Byrne, and Anna Faris. However, for some women, bangs are not as wearable, says Gocha. "The bob with straight bangs is really making a comeback as a look for the spring. Rose Byrne and Anna Faris really nail the look with sleek, smooth hair turned inward to define the bob cut. For women with long, oval faces, or heart shaped faces, blunt, straight bangs are a very flattering look. For others, different variations of a bang are more flattering, such as side-swept or soft, featured looks. It's important to know the shape of your face when getting this cut, and consult your hairstylist before making the request. The biggest thing to remember with this look is that you'll need to schedule regular trims. Every four to six weeks is the general rule of thumb to keep bangs looking their absolute best."
Beautiful Buns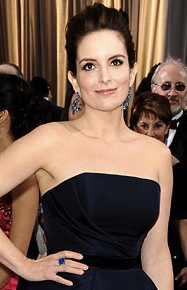 Tina Fey, Jennifer Lopez,and Sandra Bullock led the pack in stunning, upswept styles. Gocha explains, "I really love the look of the top knot that Jennifer Lopez wore on the red carpet. Overall, her look for me was a winner. The hair style really allowed the dress to shine, which is what you want when you are going with such a high impact frock. To get the look at home, start by pulling your hair into a high, slicked back ponytail, using a product such as a hair wax or pomade to create a smooth finish. If your hair is super fine, you may need to do some teasing at the base of the ponytail for a little volume, which I always appreciate with a top knot. Next, section hair into two parts and loop and twist around the base, wrapping everything with a small, sleek hair elastic." To create a messier look similar to Tina Fey's, tease hair at the crown for volume and pull into a lower bun that starts at the top of the back of your head.
Bold Lip
There was certainly a winner in the makeup department last night, and that was the bold red lip. Stars embraced this look with confidence, and proved that the bold lip trend isn't going anywhere. From Angelina Jolie, to Michelle Williams both worked the bold lip with very different gowns. "Angelina Jolie went the simple yet stunning direction with her dress, and she adopted the same mentality when it came to her makeup and hair. Paired with an uncomplicated, messy hairstyle, Angelina's soft makeup with a bold lip highlighted one of her best assets. Keeping the other makeup minimal really lets the red lip shine and become the focus of the face. Michelle Williams used a color on her lips that was similar to her dress, which worked to bring together all of the elements of her style, making a stunning statement."
Sultry Eye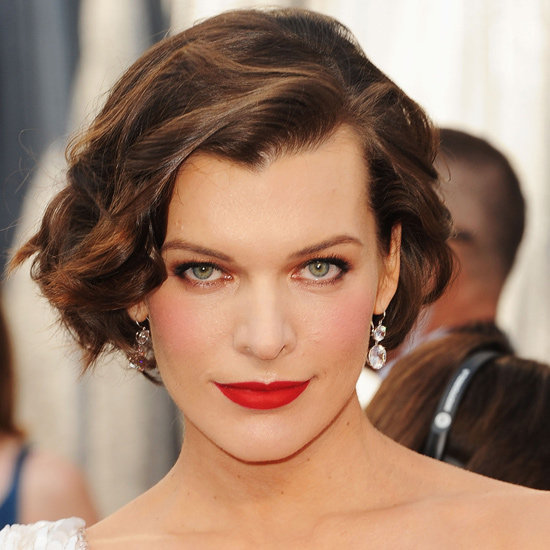 Milla Jovovich and Sarah Hyland were among the many stars that opted for a sultry, heavily lined eye that made their peepers pop. Says Gocha, "You will always see sexy, smoky eyes on the red carpet, as it is a classic go-to for most stars. The key is to create the perfect sultry look without going overboard and having a makeup meltdown throughout the night. I suggest using neutral tones to blend the right color for you, from browns to darker black. The best smoky eye is one that radiates warmth and goes well with the individual's skin tone. If your skin is cool, go with grays to blacks; if it is warm, use browns to darker browns. Heavily line the top of the eye with black liner and do a small line underneath, setting with eye shadow. Add a couple coats of mascara for more of an impact. Besides an optional bold lip, which always pairs well, keep other makeup minimal so that your eye will really stand out."
Baring It All
While the bold lip and eye were stunning at the Oscars, there were also a fair amount of stars that went with the minimalist look, like Gwyneth Paltrow and Judy Greer. As Gocha points out, "Stars really embraced their natural beauty last night, and I am always a big proponent of allowing your own stunning features to shine. The key is to create a face that looks fresh while still using makeup staples to make sure that the finish is flawless. It's very important to moisturize with this look, as well as find a foundation that is perfect for your skin tone. Next, find a dual blush and lip product that works for you by choosing a color that is very close to your natural flush and lip color. Then, swipe some mascara over your eyelashes, and finish with a touch of liner if needed. You want to fool the world into thinking you barely needed any makeup to make yourself camera-ready."