Break out the bubbly, Veuve Clicquot has partnered with skincare brand, Fresh to create a limited-edition "Clicquot in the Snow Beauty Survival Kit." Geared to keep snow bunnies hydrated, the beauty survival kit features Fresh's most nourishing products (including the Citron de Vigne scent which was originally inspired by Veuve Clicuor champagne), the kit includes:
Citron de Vigne Eau de Parfum Rollerball is a purse-friendly fragrance perfect for travel and slope-side pick-me-ups with a Veuve Cliquot inspired sparkling citrus aroma.
Sugar Lip Treatment SPF 15 blends real sugar, a natural humectant, with meadowfoam and black currant seed oils to hydrate, soften, and protect your lips while you ski.
Soy Face Cleanser To-Go is an extra-gentle formula for all skin types that whisks away impurities after an active day outdoors without stripping the skin of essential moisture.
Crème Ancienne, the ultimate anti-aging face cream, is proven to provide long-lasting hydration that will stand up to high winds and low temperatures on the mountain.
Seaberry Restorative Body Cream To-Go is an ultra-nourishing, omega-rich treatment designed to calm and relieve irritation—making it ideal for post-ski pampering.
Brown Sugar Hand Cream provides up to six hours of supreme moisture for seriously dehydrated hands, so they stay silky soft and smooth underneath your gloves.
Housed in a chic, black cosmetic case that reads "Clicquot in the Snow" and adorned with snowflakes, the collection is affordably priced at $60 ($106 value). So lets face it, you don't need to hit the slopes to appreciate the great assortment and value of the set.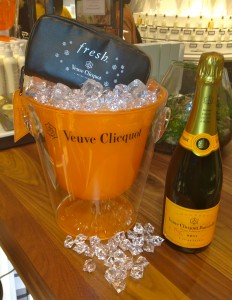 Veuve Cliquot, who's rich history has always fascinated me –and I LOVE the how the name evolved.  Originally founded by Philippe Clicquot-Muiron, then passed to his son of whom in his death left it to his widow (veuve in French); it was in fact Madame Clicquot who lead the formidable champagne company to it's great success. Leave it to the veuve! Cliquot in the Snow is a winter-long initiative that celebrates the international tradition of toasting to a great day on the slopes with Champagne during apres ski. Now in it's fifth year, Veuve Clicquot celebrates the seasonal merriment each winter with exclusive fetes, champagne tastings, charity events and designer collaborations.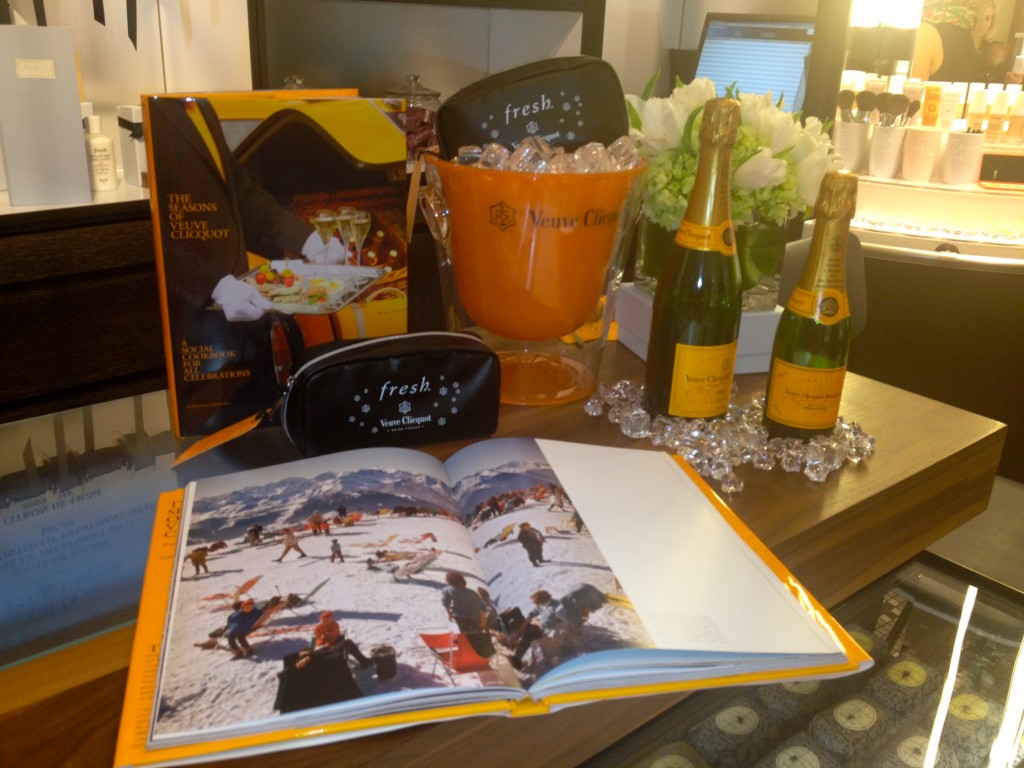 Fresh co-founder Alina Roytberg clearly shares my fascination with the brand, in 2006 she visited Veuve Clicquot's historic vineyard in Reims, France and experienced first-hand their artisanal Champagne-making process (I'm dying to do this tour!). "I became captivated by the crisp taste of Veuve Clicquot champagne and was instantly inspired to create the now iconic Fresh fragrance, Citron de Vigne (included in the kit)," says Alina Roytberg. "It was a natural step to enhance the partnership between the best in beauty and the best in bubbly to create this winter survival kit for Clicquot in the Snow."
A perfect marriage between two brands, and a great assortment of products! All that's missing is a bottle of champagne –and snow in New York!
DISCLAIMER: A complimentary sample of this set was given to Pretty Connected in a gift bag for the products launch. Pretty Connected was under no obligation to write this review.