You might not be familiar with the company Mana Products or Xania Labs but they are a source of innovation for the beauty world and work with many top brands to help make quite a few of your favorite beauty products.  Branching out from their behind the scenes station they have created a line of hair care products called Mane Boost that works to volumize your style and give your hair the perk it needs to look full – especially during these cold winter months.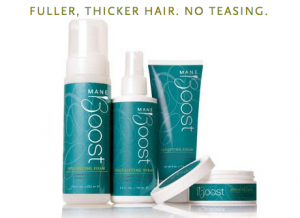 The line is made up of 4 products: Amplifying Cream, Volumizing Foam, Root Lifting Spray, and Defining Paste. They are only available in salons and affordably priced at $12 each.
I have wavy hair and I like to wear my hair curly but am challenged with my curls and roots turning flat by the end of the day.  On the other hand my sister rocks a straight style, so on a recent family trip, I put this collection to the test — on us both.
I used a combo of the moose and the cream. I only needed 2 pumps of the moose and a quarter size dollop of the cream on my shoulder length hair. My sister stuck to the cream product and did not need to look any further to get the results she was looking for…well, except for her solano hair dryer. We both had a full beautiful mane and were very happy with the results. Mane Boost has officially become my go to product to give my hair just the right amount of oomph without looking overly styled.
Bonus! Check out these videos to get the most from your Mane Boost. For more information visit ManeBoost.com
– Pretty Connected Contributor, Elizabeth Borenstein
DISCLAIMER: A complimentary sample of Mane Boost was given to Pretty Connected for post consideration. Pretty Connected was under no obligation to write this review.