You might not be familiar with the company Mana Products or Xania Labs but they are a source of innovation for the beauty world and work with many top brands to help make quite a few of your favorite beauty products.  Branching out from their behind the scenes station they have created a line of hair care products called Mane Boost that works to volumize your style and give your hair the perk it needs to look full – especially during these cold winter months.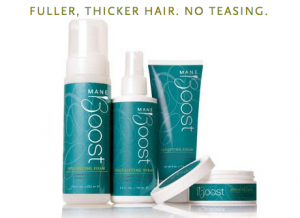 The line is made up of 4 products: Amplifying Cream, Volumizing Foam, Root Lifting Spray, and Defining Paste. They are only available in salons and affordably priced at $12 each.
I have wavy hair and I like to wear my hair curly but am challenged with my curls and roots turning flat by the end of the day.  On the other hand my sister rocks a straight style, so on a recent family trip, I put this collection to the test — on us both.
I used a combo of the moose and the cream. I only needed 2 pumps of the moose and a quarter size dollop of the cream on my shoulder length hair. My sister