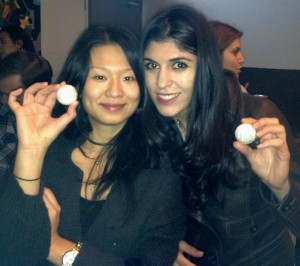 As most of you know I'm a big ping-pong fan. In addition to the great exercise it offers, it's possibly one of the most enjoyable social sports to do while having a beer and catching up with a friend. I usually go to SPiN New York for all of my booze-and-playing whims, however last week, my best friend Mike introduced me to new ping-pong/art gallery space in Williamsburg, when having his birthday party at Pips.  It's a very non-intimidating, down-to-earth table tennis club that houses 3 tables and offers a very chill environment to hang out in and play. Plus they have beer…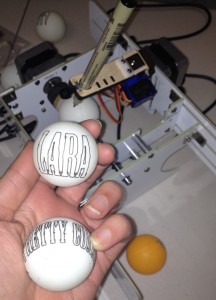 It was there that I was introduced to the Egg-Bot ($195)! Mike bought it to create the ultimate birthday party favor… custom ping-pong balls! Naturally, I wanted two–one that said my name, "Lara" and the other my blog, "Pretty Connected". The machine hooks up to your computer to and works to decorates any spherical or egg-shaped object ranging from the size of a ping-pong ball to that of a small grapefruit. We're talking golf balls, ornaments, eggs, light bulbs, mini-pumpkins… So for all you DIY make-your-own eggs at Easter or Christmas ornaments the Egg-bot could be an investment. In fact if I was a elementary art school teacher, I'd probably be regularly breaking this out for kids crafts. Lets face it, the Egg-bot is the coolest!!!
I for one am in love with my balls… now all I want to do is play with them!