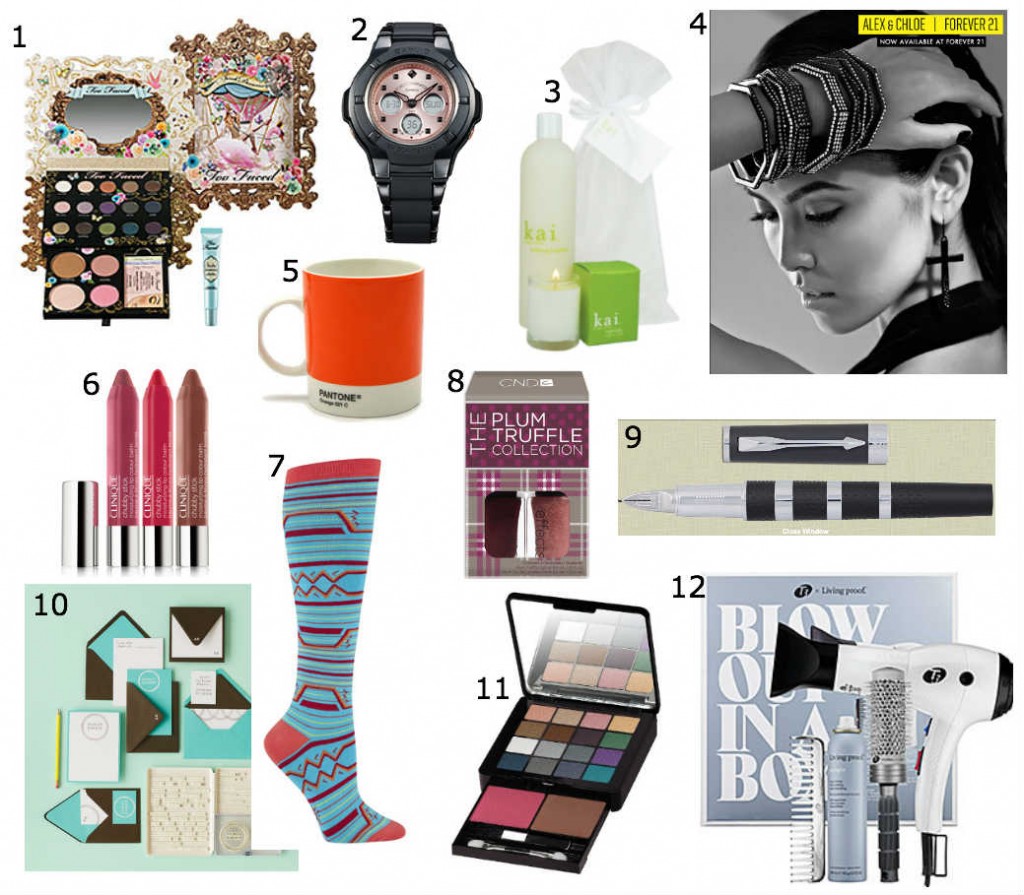 1. Two Faced Sweet Dreams Makeup Collection – $52 ($186 value). Exclusive to Sephora, this whimsical makeup set is a dream! Filled with 15 of their best-selling eye shadow shades, a full-size Prime Anytime eye primer, two shades of blush, bronzer and highlighter and their signature "How To' Cards to learn how to apply gorgeous looks with step by step instructions. Every girl in my office bought this palette (it's that good).
2. Rebecca Minkoff Collaboration Timepiece with Baby-G ($200) – Here's your chance to own Rebecca Minkoff's first watch and as of now there are only 500 of these Baby-G watches being made!
3. kai bubbles & light holiday set ($49) – The gift of relaxation is always a winner in my book. This limited edition set comes in a sheer gift bag and is filled with kai's bubble bath and all-natural fragrance candle.
4. ALEX & CHLOE for FOREVER 21 -Alex and Chloe designed a full collection of jewelry for Forever 21 all under $20!! I'm all about mixing their Rhinestone Bangels (set of 3 – $14.48) with their thicker  Rhinestone Hexegon Bracelet ($14.80), pictured above, and am very excited to welcome them into my jewelry collection.
5. Pantone Mug – offered in a variety of Pantone colors ($15.95 each or $90/set of 6), this mug is a full proof present for any creative-types or coffee addicts on your list.
6. Clinique Chubby Sticks Trio ($45) – I love these hydrating color balms! They offer a soft tint of color and shine with every application. This set includes shades Super Strawberry, Chunky Cherry and Whole Lotta Honey. They are also available individually (in a variety of shades).
7. Sock it to Me knee socks ($9) – offered in a variety of funky prints and colors, forget buying underwear this holiday and go straight for the socks!
8. CND The Plum Truffle Collection – This duo nail polish set includes CND shades Plum Truffle Colour and Plum Truffle Sparkle Effect. Designed to be worn together, apply two coats of Plum Truffle Colour, followed by one coat of Plum Truffle Sparkle Effect (don't forget your base and top coat!). Makes a great stocking stuffer! This set is available on timetospa.com.
9. Parker Pens Ingenuity Collection ($190)- I was recently at an event for Parker Pens and fell in love with them. Pick a pen based on the way it writes, looks and feels, and Parker has a grand collection of pens. However if you need a guidance, check out their new Ingenuity Collection (my favorite is the Large Daring Black Rubber and Metal pen). Everyone can use a quality ink pen, especially right around the holidays — just think about all of those 'Thank you' cards you'll have to fill out. Plus it makes you feel so fancy!
10. Martha Stewart Crafts Set Your Own Stamp Case ($20.59) – If you're looking for a gift for any of your craft friends/family, check out Martha Stewart Crafts collection. I have my eye on her Set Your Own Stamp Case which lets you create your own message on cards, invitations, tags, scrapbook pages… and includes upper and lower-case letters, numbers, punctuation marks, icons, phrases, and circular border stamps. Includes 318 pieces to be used with any colored ink pads (sold separately).
11. Victoria's Secret Party Perfect Makeup Kit ($18) – A medley of 20 must-have VS eyes and face shades, including 16 eye shadows, blush, bronzer, eye applicator and face brush. What more can you ask for from a beauty kit?
12. "Blowout in a Box" by Living Proof and T3– $200 ($258 value). Don't you love it when two quality brands that compliment eachother partner together to bring you a value set? Exclusive to Sephora, this set has everything you need to create the ultimate salon quality blow-out from the comfort of your home. The "Blow Out in a Box" contains a T3 Featherweight Hair Dryer, Living Proof Straight Styling spray, and a Shine & Volume Application Kit which contains Neo-tortoise shell comb to detangle the hair when wet and Ceramic barrel brush for styling.