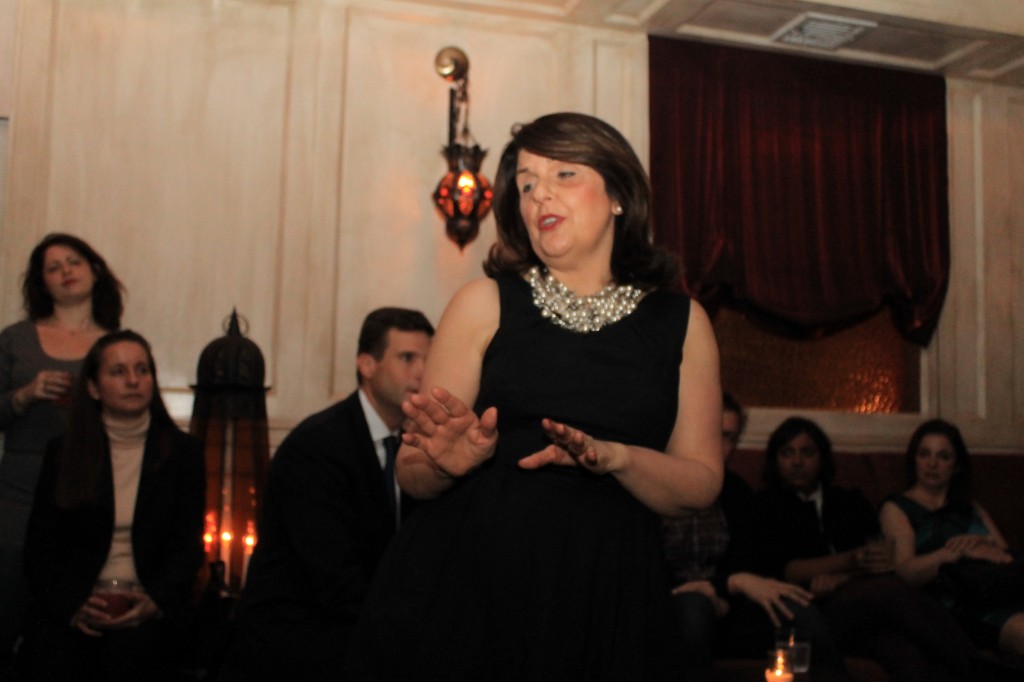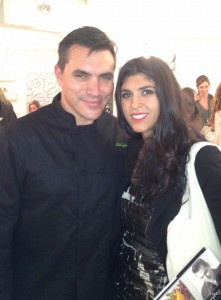 For lack of a better cliche, I was through the moon over the recent event, Under the Stars I helped produce with the amazing PR Agency, Noise 784 for an evening with world famous astrologist (AstrologyZone founder), Susan Miller, and celebrity chef, Todd English. Considering the event was on the fancier side, I wasn't leaving anything to chance. So after spending the day getting my hair and makeup done at Angelo David Salon, I dashed to Nicole Miller for the perfect outfit.
Susan Miller, who rarely makes public appearances hosted the zodiac themed evening, complete with specialty cocktails created by the founder of Intoxicated Zodiac mixologist, Gwen Sutherland Kaiser at Todd English's restaurant, Crossbar. Located within The LimeLight in NYC, it's modern day medieval charm complimented the enchantment of the evening perfectly. And while the astrologist indulged guests in an hour lecture over what to expect for 2012, the chef was busy in the kitchen preparing a four course meal consisting of small dishes representing the four astrological elements: earth, air, fire and water.
I was busy tweeting up a storm and selfishly like every person in that room waited for Susan to address my zodiac sign for incite into what I had to expect. She began by announcing the luckiest days of the year — May 12th and 13th. She then asked if there were any Taurus' in the room. The only person to raise their hand was my date.
She then gloated over his good fortune, especially if his birthday be on those days or right before. It was the May 9th. She seemed pleased and encouraged him to pursue any business opportunities as there has not been a year with this much financial fortune since 1999. My date turned to me and whispered, "Lara, I've never made as much money as I did in 1999". I got chills!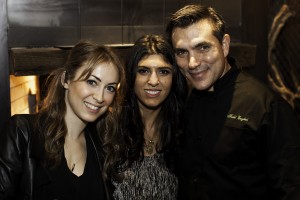 To be clear, Susan is not a psychic, she's merely given her life to astrology and learning about all the planets and zodiacs to maneuver her way through the cosmos — if I'm even explaining it correctly. Most astrologist just look at a few different factors, she takes everything into consideration which is what makes her the most highly regarded astrologist on the planet. I mean literally, google "astrology", her website is #2, right after the definition of astrology. And if I wasn't convinced before I need to read her website every month, I am now. Signing a lease on the wrong day, or worse getting married one can have ripple effects. If I'm going to navigate this life, I want the universe on my side. And clearly it was that night! It was a packed event and the energy in the room was electrifying –well that and the bar tenders we're doing an excellent job of keeping us toasty. Todd English, could not have been more charming or fun and signed his Cooking in English cookbooks for all the guests. Which is lucky for me… my mom will be elated with her Christmas present:)
Happy holidays everyone! Wishing you a prosperous and exciting 2012!