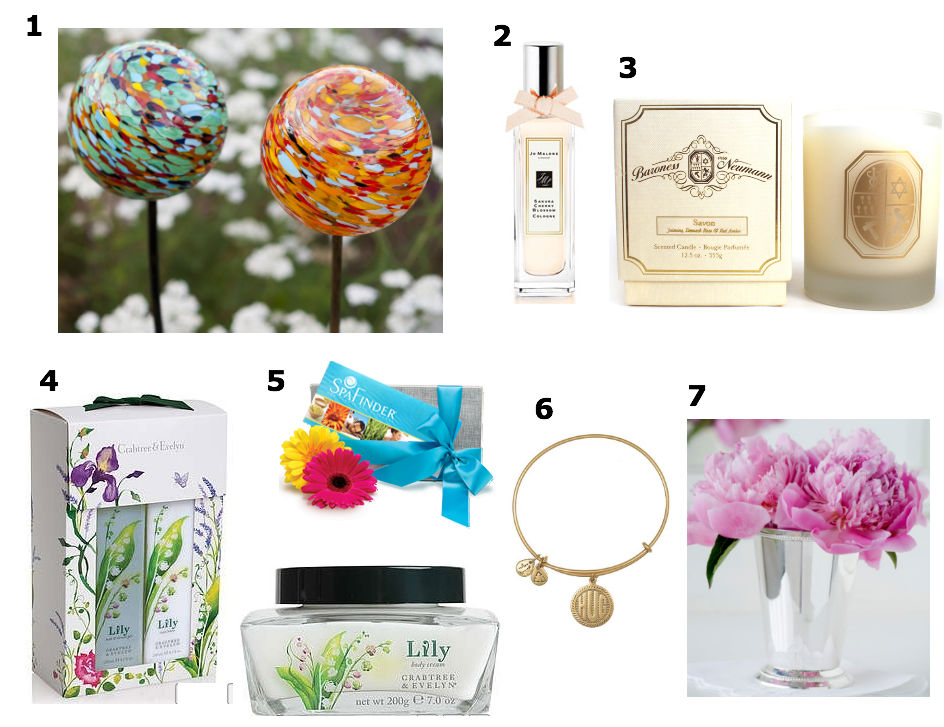 1. Garden Art & Lanterns on ahalife.com – $50
Designed by Allsop Home & Garden, and hand made by artisan glassblowers, these beautiful, rechargeable, solar-powered garden lanterns are sure to brighten any garden.
2. Jo Malone Sakura Cherry Blossom – $55
Jo Malone recently launched this new limited edition fragrance, Sakura Cherry Blossom and it is divine! This delicate fragrance mixes the subtlety of cherry blossom with layers of rose, bergamot and mandarin. Both light and feminine, this scent is a great celebration of spring. I'm a big fan of their simplistic but oh-so-elegant packaging and the way they gift-wrap is their off-white/black box is perfection.
3. Baroness Monica Von Neumann Savon Candle – $38.50
I'm new to Baroness' line of quality candles, but I can already say I'm hooked! They burn for 70+ hours (which is exceptional for a candle that size) and the scent is so full and sophisticated with notes of Jasmine, Rose and red amber. It's a very regal scent and the woodsy hint really makes it rich.
4. Crabtree & Evelyn Lily of the Valley Duo Shower Gel and Body Lotion Set $34 ($44 value)
Lily of the Valley reminds me of my childhood. This scent is so beautifully captured and divine for spring. While the Duo Set makes a great gift, if you're looking for something extra, add the Lily of the Valley Body Cream ($33). It's my favorite product from the collection. It's so hydrating and soothing on and the packaging is so elegant. These products are free of parabens, phthalates, propylene glycol, and mineral oil.
5. SpaFinder Gift Certificate
Want to pamper mom but not sure which spa to choose? Go with a SpaFinder Gift Certificate! Valid at more then 6,000 spas around the world and can be delivered immediately upon purchase via email or by printing from your computer. Plus they never expire.
6. Alex + Ani Hug Expandable Wire Bangle – $24
Sometimes mom just needs a hug! Charm and friendship bracelets have been huge this season, so why not pick out something simple to show mom you're thinking of her. Alex + Ani are the expandable bangle bracelet queens so you can mix and match from their vast collection, or wear one it's own. Available in Russian Gold and Russian Silver.
7. Peonies and a hand-picked card
If you're looking for something thoughtful to give mom, skip the roses and try peonies with a hand-picked (or made) card. There's something so beautiful about the way they bloom and brighten up a room.  And did you notice on Monday's Gossip Girl the prince brought some pink ones for Blair? I did. 10pts for the prince.
Disclaimer: A complimentary sample of #2, 3, and 4 we're given to Pretty Connected by a company representative. Pretty Connected was under no obligation to write this review. See my About/Disclosure tab for more information.