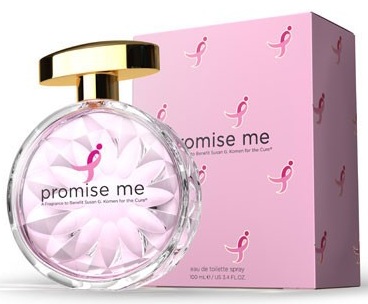 The Susan G. Komen for the Cure foundation has partnered with TPR Holding to create their first signature fragrance 'Promise Me', to honor those who have been touched by breast cancer. While we've seen many beauty products donate proceeds to the Susan G. Komen fund, this is the first and only proprietary fragrance for the cause.
When I first heard about the fragrance launch, I was perplexed by what it would smell like. How do you bottle bravery or strength? Let alone a tribute to all that have been touched by breast cancer? That curiosity turned to excitement when I found out one of my favorite perfumers, Jean Claude Delville of Drom fragrances developed it.  When speaking with him I got the sense that he was completely immersed in the identity of the fragrance and how that would translate into the fragrance notes. Promise Me contains top notes of mandarin, bergamout. Blood orange, sparkling yuzu, black currant, fresh aldehydes, pink peony, wild orchid, rosewood, white patchouli and musk.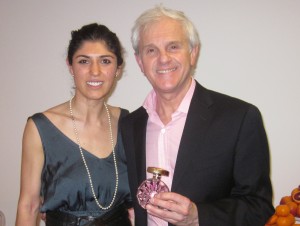 "Once we have all of the ingredients the perfumer has to put all of this together in a very skillful, creative and emotional way in order to try to find out the real soul and attitude of the fragrance," said Delville. Six month of development and research later, Promise Me was born. A sophisticated floriental fragrance, it's sheer and elegant and lovely for spring. If you visit the Promise Me website, there is a section on all of the notes Jean Claude Delville used and his inspiration for the choice (narrated in his voice!).
What's additionally inspirational about the fragrance is TPR Holdings has committed to donating $1,000,000 to Komen for breast cancer research, education, screening and treatment. "With the launch of Promise Me, we're one step closer to finding a cure," says Brian Robinson, president of TPR Holdings.
To learn more about Promise Me and to purchase visit promisemefragrance.com
Disclaimer: A complimentary sample of Promise Me Eau de Parfum was given to Pretty Connected in the gift bag at the launch event. Pretty Connected was under no obligation to write this review.