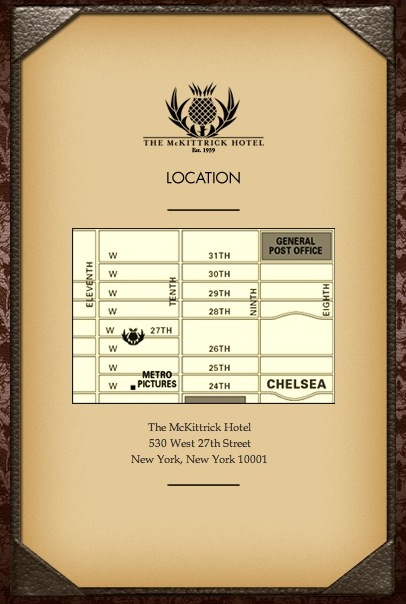 A few weeks ago while I was at Katie Holmes' John Frieda event, I ran into a group of friends I hadn't seen in a while. Amidst our departure one of them mumbled something about how we should go to this play, Sleep No More, where you wear a mask and it's totally 'Eye's Wide Shut' like. I didn't really know what that meant at the time –was I going to watch a play and be seduced while wearing a mask? Especially since it was at a hotel I had never heard of –the McKittrick. I was intrigued.
The emails circulated, tickets we're bought and next thing I know I'm entering a set of large unmarked black doors and being asked to check everything. When in Rome… I gave them my purse, coat, cell phone –it felt kind of liberating. I then walked to the 2nd floor bar and joined my friends. And that's where the journey began. You walk through this maze of darkness feeling your way through and come out in something set out of the 1940s. Live entertainment with tables and a bar. The hosts all dress to a tee as if we're all at a masquerade ball –only at this point we weren't required to wear masks. The ticket alone was worth hanging out at the bar all night.
You're given a card as your ticket (I had a jack), which designates your group. And call different cards up to enter the hotel. Once yours is called you follow the seductress into a small room where you're handed a mask and are no longer allowed to speak. She then takes you in an elevator and divides your group onto different floors of the hotel. The door opened and it felt like something out of a Kubrick film or maybe H.H. Holmes creepy castle–scenically a cross between an antique museum and the hotel in Psycho (the original) with eerie music in the background. If this was supposed to be a haunted house, I'd be terrified, but it's a play so I was optimistic for the future of my limbs. You wonder between the floors without restriction. As you walk around you stumble across scenes out of Macbeth are being performed around you. I wasn't able to follow the story line, some guy was naked in a bathtub on one floor getting in some heated argument with a woman, on another floor there was a group of men having drinks in a saloon, I didn't see to much of a correlation between any of it. Nonetheless it was visually very stimulating and well choreographed. You can either follow the actors around or continue walking around in between floors. Apparently at the end of the show all the actors come together for the final grand finale of the show.
Having no idea how any of this worked, I unfortunately missed the finale. I had wondered around for few hours and then opened a curtain and all of a sudden was back at the 2nd floor bar. I noticed one of my other friends there, so we had a drink and enjoyed the entertainment (and the use of our vocal cords), while we waited for the rest of our group.
What I enjoyed the most is how much we all had such different experiences (and it was something different). In a strange way it reminded me of Burning Man –a very dark and twisty version. It's a journey you can go in with friends but ultimately take alone. So if any of this bizarrity sound enticing or you have a strong appreciation for the strange, check it out!